Hello my friends!
I would like to introduce you a very efficient tool I have been sucessfully using for many years. It is called Market Profile and it was developed by Peter Steidlmayer in the second half of 20. century.
At first I would like to point out that Market Profile isn't indicator like EMA, RSI, MACD, Bollinger Bands etc. It works quite differently. In it's core Market profile does one simple thing – it shows volume at price.This means that it shows a histogram on vertical axis of the chart that shows how much volume was traded at that particular price level.
This example shows 1 day Market Profile for USD/JPY (6.3.2017). You can see that most volumes of the day were traded at price 113.83.
Point Of Control (POC)
Place where the most volumes of the given session (day in this case) were traded is called Point Of Control (POC). POC is the most significant level of the session. It doesn't necesarry need to be in the center of the histogram. Have a look at few examples of different shapes of daily profiles. POC is highlited in each one of them:
As I wrote in my previous article – Price action – how to identify big players – big players move the markets and they can be identified either by Price Action or by Market Profile. POC is a place where the big players traded most volumes, possibly place where they were accumulating their positions. Obviously they accumulated their positions in wider range but POC is place where they accumulated most. It serves as a very strong reference point for them. Because it is a strong reference point for them it should also be a strong reference point for us.
Market usually makes quite strong reactions to POC levels but in my trading I don't trade POC just blindly. I combine information I get from Price Action with information from Market Profile. This gives me the perfect market overview.
Apart from POC I also look for high volume areas. They work more or less the same way as POC does. The logic is the same: big volumes = big players.
Timeframe:
So far I showed you only daily profiles (profile for 1 day). However, you can use all sorts of different sessions for your Market Profile. For example you can use weekly, monthly, yearly or cummulative volumes (volumes for custom period of time).
For example this is AUD/USD cummulative profile for 16.8.2017 – 7.3.2017. There are two very significant volume areas. Both of them can be used as a support/resist zone. Have a look: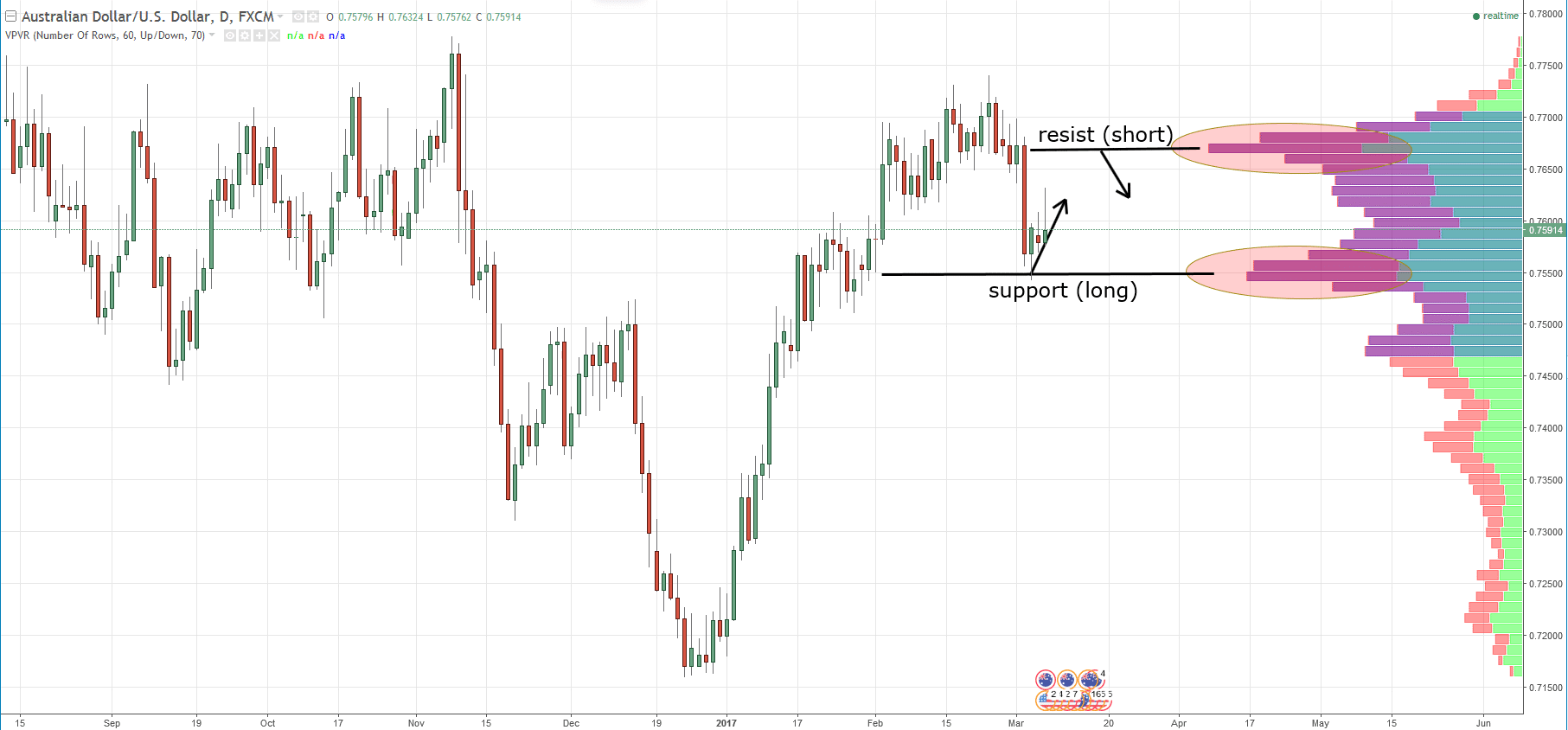 Forex vs. Futures

If you use Market Profile with Forex data, you need to know that it will never be as precise as Futures data. The reason is simple. Forex is not centralized market. There are many brokers with different data so basically they are unable to be 100 % precise concerning traded volumes.
Futures markets however, are centralized so the volumes are 100% correct. My personal experience is that for quick intraday trades it is better to use Futures data but it is not necesarry. For swing trades it is perfectly okay to use Forex data.
Where do I get Market Profile?
You can download Market Profile here:
You will find instructions how to run it in your Metatrader 4 in the .rar folder in "Market-profile-instructions.pdf"
I hope you will like Market Profile as much as I do
Dale