I would like to show you an alternative way how to manage your Stop-loss. It is not very common method, but I have been using it in my swing trading  for several years now and I find it much more effective than using standard Stop-loss methods.
With the Alternative SL approach, you don't quit your position when it hits the SL level but. You exit it only when a candle CLOSES past your "normal SL" (normal SL = the place where you would normally place your SL). The reason for that is that sometimes the price overshoots your level even though the original idea behind the level is right. This can be caused by strong volatility, SL hunt (SL squeeze), or because you simply don't give your position enough space to develop. I bet it happened to you many times, that you took a SL and few moments after that the price completely changed it's direction and your trade would  have ended up in a profit. Alternative SL approach takes care of situations like this.
However, there is also a downside to this. The downside is that you don't know in advance what your final SL is going to be.
It is not easy to manage such positions from the money management point of view. For this reason, I use "catastrophic scenario SL"which is 150 % of the "normal SL". If the price hits "catastrophic SL" then I quit the position immediately. With this you can at least tell how much the absolutely worst scenario will cost you. In my experience, the "catastrophic SL" doesn't get hit too often. It is there mostly as a safety pin.
Let me demonstrate how the Alternative SL approach works on a trade that I closed yesterday.
Below, you can see a Daily chart of AUD/NZD. I had there a long swing level which was based on Volume accumulation setup. The "normal SL" would be around 1.0659 – exactly at the low of the pinbar wick you can see on the left side of the chart. This is a good and a logical place for a SL because it is below the main support zone = below the volume cluster (in blue circle) and in a low volume area. After I entered the long trade, the price went against me and it hit the "normal SL". I think that probably lot of people had their SL orders there and the market just went there to take them. After that the price finally turned upwards.
I didn't close my position when the price hit the "normal SL" because I used the Alternative SL approach. I would have closed my position only in two cases – 1. if a Daily candle closed below the "normal SL" or 2. if the price hit the "Catastrophic SL". Neither of these two scenarios happened so I held the position and I was able to take a full profit the next day.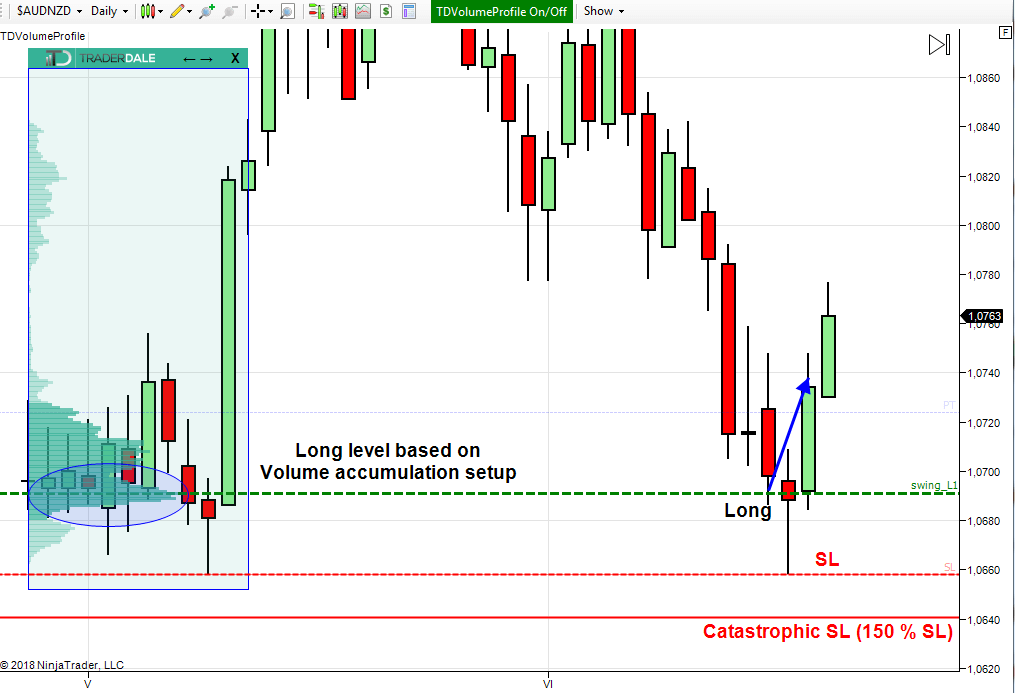 You can apply the Alternative SL method on your own swing levels, or if you don't feel like doing your own levels yet, you can apply it to my swing levels which I publish regularly for members of my Pro Forex Course every month.
Happy trading!
-Dale
Do you want ME to help YOU with your trading?
Join one of my Volume Profile Educational courses and get my private trading levels, 15 hours of video content, my custom made Volume Profile indicators, and more!
Recommended Forex Broker
Having a solid broker with low spreads and commissions is ESSENTIAL for PROFITABLE TRADING! Check out my recommended brokers