In yesterday's post, I was talking about an opening gap that got created on JPY pairs. I also showed you a trading strategy that you can use in a situation like this.
If you missed it or if you would like to read the exact rules of the strategy again, then the yesterday's post is here:
Different trading instruments
I got quite a lot of emails yesterday and many of you guys were asking, whether this strategy was also applicable to other trading instruments.
The good news is that the answer is – yes! You can apply this strategy to other trading instruments as well.
Apart from forex, you can also use this one for example on indices like S&P 500, energy like Crude Oil, metals like Gold and other…
I am not that sure about single stocks though. The thing with stocks is that opening gaps are quite normal there. It is not so rare as for example on forex. Those gaps also don't get filled that often. So I personally don't trade this strategy on stocks.
Where this strategy really shines, is instruments where initial gaps are not very common.
Examples
Let me now show you a few more examples on different trading instruments than forex (if you are interested in forex, then you can check out yesterday's post, which was just about forex)
Do you want ME to help YOU with your trading?
Join one of my Volume Profile Educational courses and get my private trading levels, 15 hours of video content, my custom made Volume Profile indicators, and more!
EXAMPLE #1: Crude Oil
In this example, there is an opening gap from this Monday (27th January). The gap was a smaller one and it was followed by a quick movement down. This movement was a low liquidity move. Very low liquidity – almost a gap!
The gap was there for two whole days and then it got completely filled.
Above the gap, there was a heavy volume cluster (heavy volumes). This volume cluster works as a resistance.
As you can see from the picture below, the price reacted to it, and went downwards.
The chart below is CL 03-20; 30 Minute Time Frame: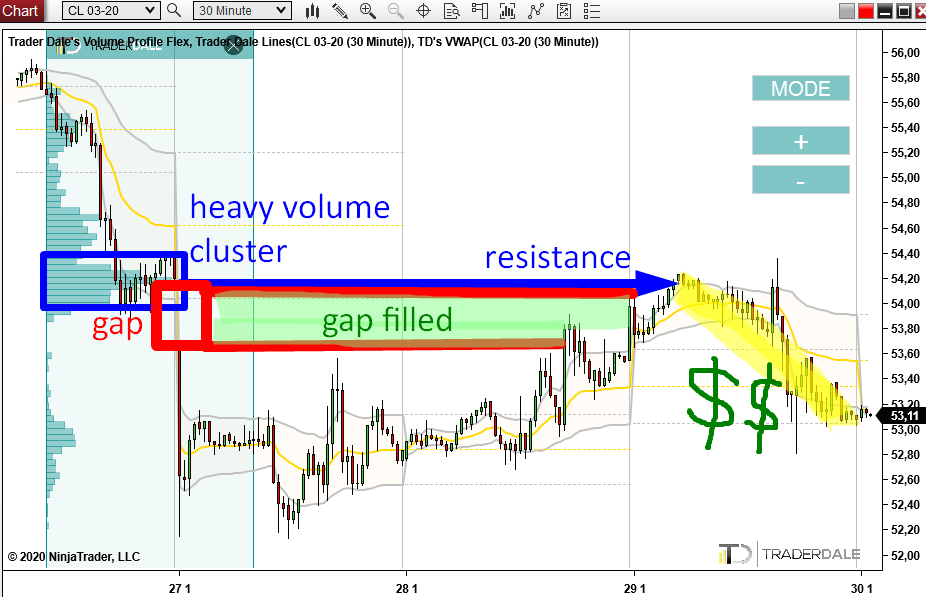 EXAMPLE #2: ES (S&P 500 futures)
In this case, the opening gap was quite a big one. It formed on market open on the 27th January and got completely filled after two days.
The resistance which we use for trade entry was a bit higher though. It did not get hit for almost another whole day. Then the price very shyly touched it and sell-off started.
BTW what you see in the picture is not the whole selloff. It is just the start! Currently the price is 25 points lower than what you see there.
The chart below is ES 03-20; 30 Minute Time Frame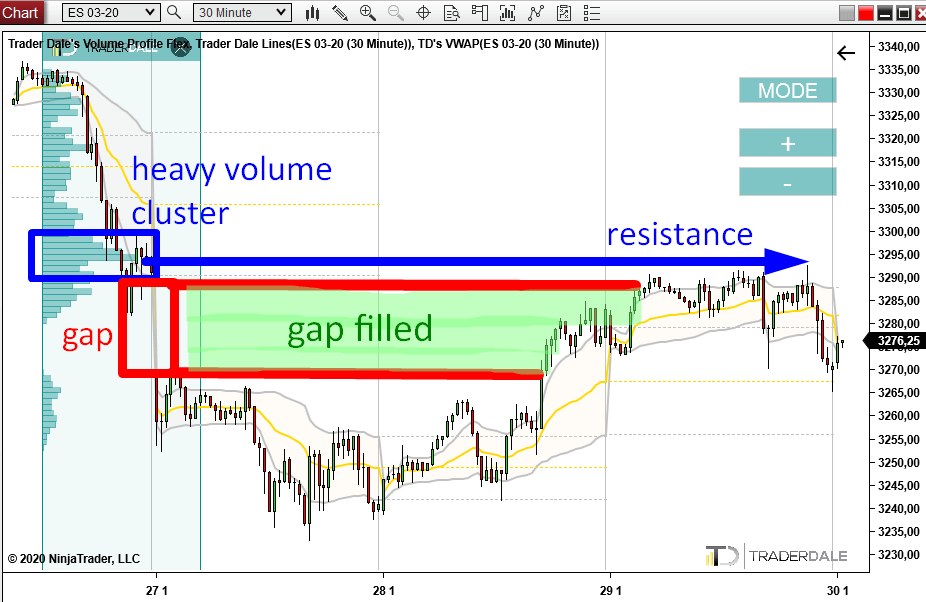 Recommended Forex Broker
Having a solid broker with low spreads and commissions is ESSENTIAL for PROFITABLE TRADING! Check out my recommended brokers
The opening gap on Gold occurred at the same day as in the previous cases (27th January) and it was a pretty big one!
Also, the volumes which got accumulated below the gap on Friday, were pretty massive! Nothing a Volume Profile trader should miss!
On Monday, the gap got filled only partially, but not fully. The support was still there and ready to get tested.
On Tuesday, the price hit the Volume Cluster, and as soon as it touched it, the price shot upwards in a quick move creating a Pin bar (on 30 Minute Time Frame).
The chart below is XAUUSD (Gold); 30 Minute Time Frame. *The picture is from Mt4 platform because I had some issues with data for Gold in NT8):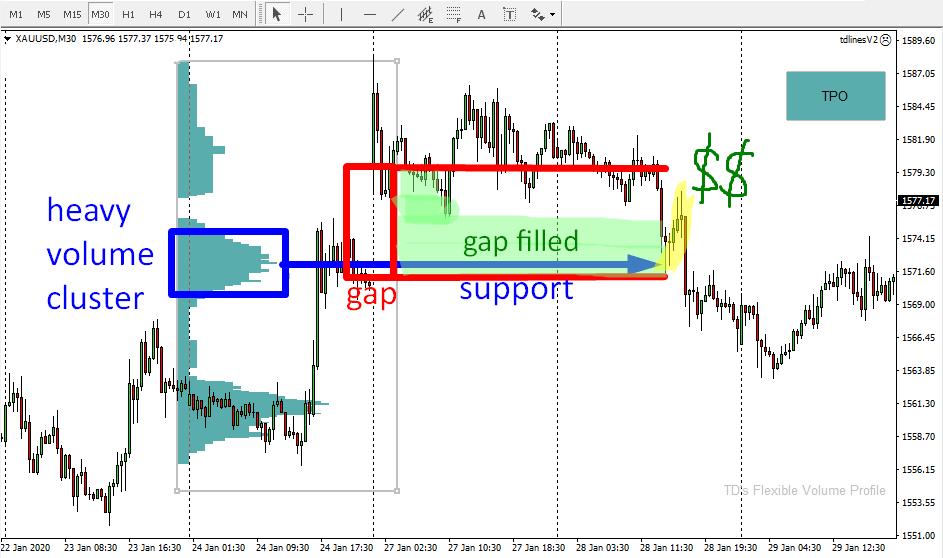 As you can see, this strategy works pretty nicely on many trading instruments, not only forex.
It is not the main strategy which I trade (it is a bit rare to see a valid entry setup). But when I see it, I trade it!
I hope you guys like it!