I had a long trade on USD/JPY today. The trade was based on Strong Rejection Setup. Before my long level at 113.33 got properly tested, the price turned 2.5 pips before the level and made 8.5 pip reaction. The question of the day was: Do I take this trade or do I consider it tested and discard the level? I decided to be more aggressive and still consider the 113.33 long level valid. So, when the price actually touched the level an hour later I entered the trade.
Why did I decide to be more aggressive then? The reason was that this trade was in direction of an uptrend on the USD/JPY. The trend is your friend and it helps you. So if you are not sure if to take some trade or not – have a look at the trend (if there is any) and decide then. If your trade is in the same direction as a current trend -> be more aggressive. If you go against a trend -> be more conservative.
In the picture below, you can see the current uptrend on the USD/JPY (1-hour chart). I marked some more significant areas in this uptrend. In those areas, you can clearly see aggressive buyers who were either initiating strong up move or rejecting lower prices aggressively while pushing the price higher.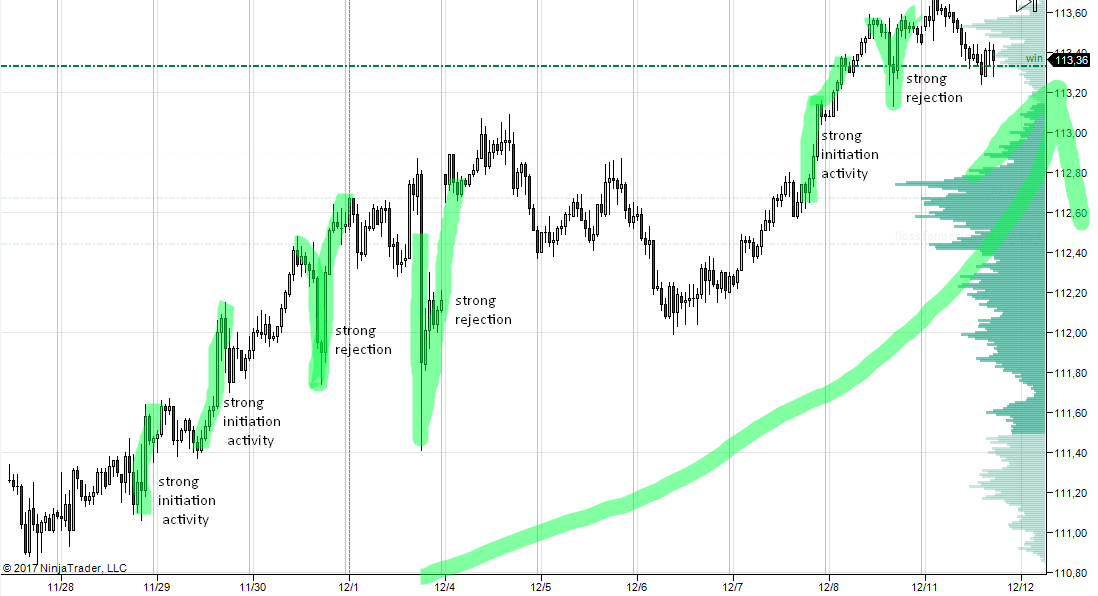 In the picture below you can see a strong rejection of lower prices. I used my Flexible Profile to see where in this rejection the heaviest volumes were placed. It was at 113.33. In this place, strong buyers who were rejecting the lower prices placed most of their volumes. For that reason, I considered this level a strong support and went long from it.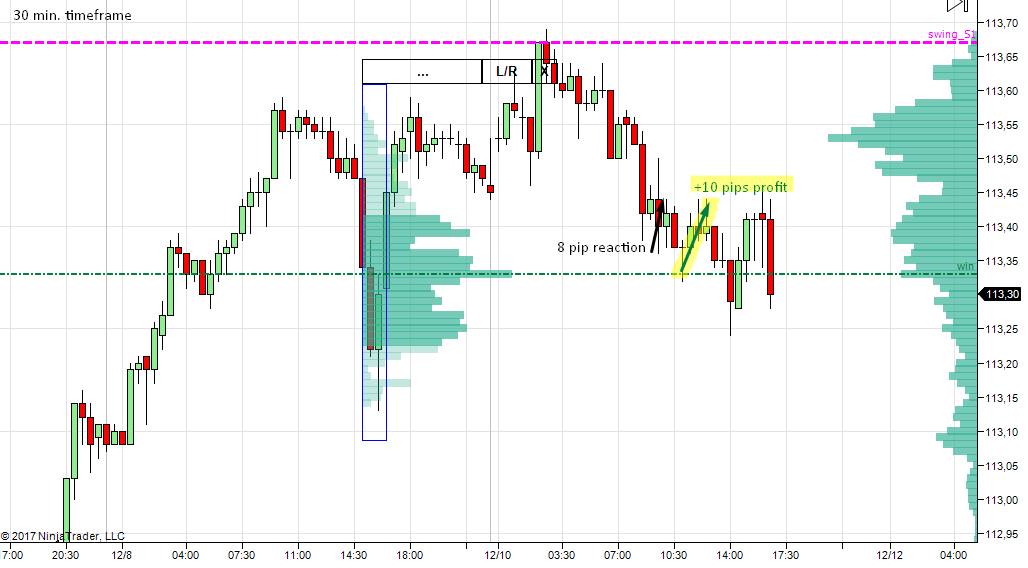 So, this is how I use volume profile analysis along with overall market analysis to improve my results and to help me decide in situations that are not so black and white. I show this kind of things in my daily videos that I make for members of my course every day (among other things). If you would like to join us, you are very welcome to do so by clicking here: Dale's Pro Forex Course
Happy trading
-Dale