I would like to show you a trading method which combines intraday trading with swing trading.
It is a highly efficient method with an extremely high RRR (Risk Reward Ratio).
Strike rate is not that high, but the big RRR makes up for it.
I am going to show you the method now, but first a warning: you will need to have the guts for this as it requires you to hold intraday trades as if they were swing trades!
Feel like you have the guts for it? Good! Let's have a look at it!
Intraday analysis
The core of this approach is finding a strong trading level, which makes sense both as an intraday trade as well as a swing trade.
As an example, I will use a trading level, which I published for members of my trading course.
This level was a short on EUR/USD. I published it as an intraday trading level at 1.1087.
The reasoning behind the level was this:
There was a heavy volume area created in a price rotation. Then the price went downwards from there aggressively. This gave me the indication, that there were strong sellers building up their selling positions there.
I marked this level and I waited until the price returned to this level again. My idea was that those sellers would become active again, defend their selling positions, and try to push the price downwards again.
I call this scenario the Volume Accumulation Setup. You can learn more about it for example in this free webinar:
WEBINAR: Volume Profile Setups
Below is the 30 Minute chart on EUR/USD with this intraday trading level.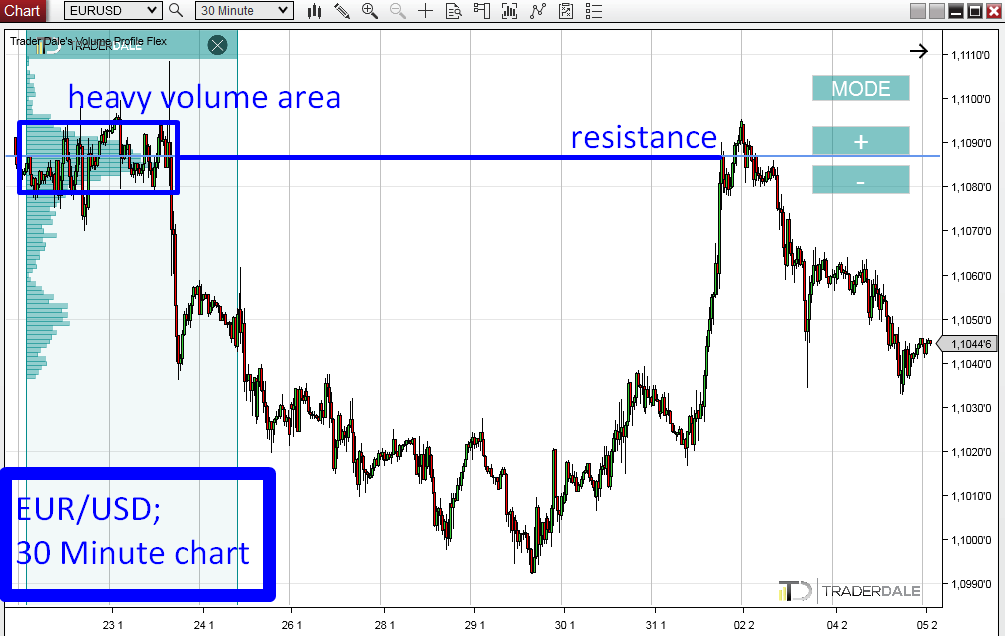 Do you want ME to help YOU with your trading?
Join one of my Volume Profile Educational courses and get my private trading levels, 15 hours of video content, my custom made Volume Profile indicators, and more!
Swing trade analysis
Let's now have a look at this level from a higher perspective using a 4 Hour chart
(*in NinjaTrader software you need to set your chart to 240 Minute chart to get the 4 Hour chart):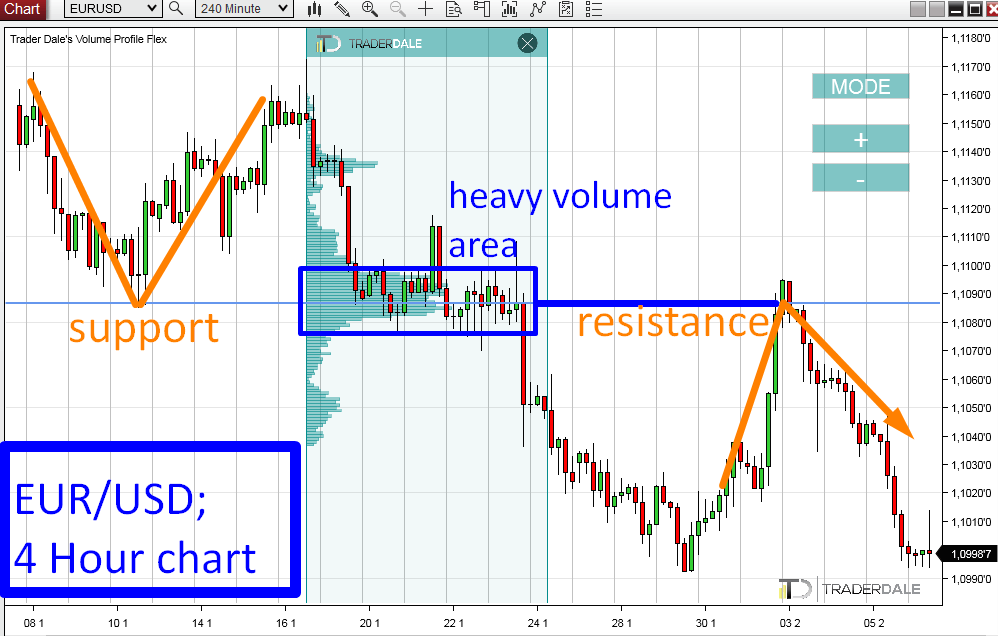 There are two very important things in the picture above.
The first one is the heavy volume area in the middle of the downtrend. You can notice that it points you exactly to the same level as the intraday trading analysis.
This does not happen that often, but more often than you would think.
Another cool thing to support this trading level is that it worked as a support in the past. The price bounced off this level really nicely (that's how you tell it was a support).
When the price went past the support, it then became a resistance.
You can learn more about this setup here:
Support → Resistance Price Action Setup
Recommended Forex Broker
Having a solid broker with low spreads and commissions is ESSENTIAL for PROFITABLE TRADING! Check out my recommended brokers
Trade management
Now, we have a level which makes sense both as an intraday trade as well as a swing trade!
This gives us a nice opportunity to enter a swing trade using a very tight Stop Loss.
In a situation like this, you can use the Stop Loss as if you were trading a standard intraday trade. For forex pairs, this could be for example 10-15 pips.
What you do next is to open a standard intraday trade, but divide it in two halves.
You close the first half of the trade as is you were trading a standard intraday trade (for example after you made 10-15 pips profit).
Then comes the hard part!
You need to hold the second half of the position as if it were a swing trade!
This means your Take Profit could be for example 50-100 pips!
In this particular case, the ideal Take Profit would be 60 pips.
The reason for that is that there is a significant Volume Cluster standing in the way at 1.1028.
If you would like to learn more about placing your Take Profits using volumes (like in this example), then you can watch this free webinar:
To sum it up – If you used TP=10 pips and 60 pips, and SL 10 pips, then you had 1st half of the position RRR = 1 and the 2nd half RRR = 6.
That is, if you had the guts to hold it!
I hope you like this trading method and I hope you will give it a try!