What a day! We have been really busy, and happily, all trades ended in a profit. That's what I call a successful day! Well, every day when you stick to your rules is a successful day, so let's call this an EXTRA successful day, alright?
Lets have look at the trades:
EUR/USD 1.1874 LONG
I took this trade with a limit order because it got hit during asian session, which is when I'm normally sleeping. If I were at the computer I would secure my position soon after my entry and I would end up with -2 pips. But as I mentioned, I trade the Asian sessions with limit orders, and without any position management. For that reason this trade was pretty easy for me. When I came to the computer in the morning, I saw a relatively strong rejection of lower prices. I then secured my position by moving the stop loss below the current low of the reaction area and took a full +10 pips profit within a few minutes. Good start to the day 🙂
Here is a screenshot from my platform (1 minute chart):
EUR/USD 1.1889 SHORT
This level was based on the 1st setup (volume cumulation setup) I cover in my Market Profile Webinar. The counter move was pretty rapid and also my short level on AUD/USD got hit at the same time so it was a bit concerning. I was trying to find some significant news behind this strong buying activity that went against my levels but I couldn't find anything so I entered them both with full positions. I had pretty quick +10 pips profit on the EUR/USD short.
AUD/USD 0.7878 LONG
This level got hit before the Unemployment Claims news. This news is marked as "red" (significant) at Forex Factory but I am not sure why because this news usually doesn't have any impact on the USD whatsoever. For that reason I didn't quit my position before this particular news and held it through the news release. Quite surprisingly the market started to move rapidly at the time of the release. In my opinion this volatility was caused by Canadian GDP news (released at the same time) and not the Unemployment Claims data. AUD and CAD can have a strong correlation at times, which is the reason I think this reaction was more than likely caused by the CAD news. Anyway, because of this, we were able to get a quick +10 pips profit there.
AUD/USD 0.7932 SHORT
This level got hit at the same time as the EUR/USD short from 1.1889. If you look in the charts, you can see that this level was more or less the only price reversal during the US session, thus showing the power of these levels. Another +10 pips profit for me 🙂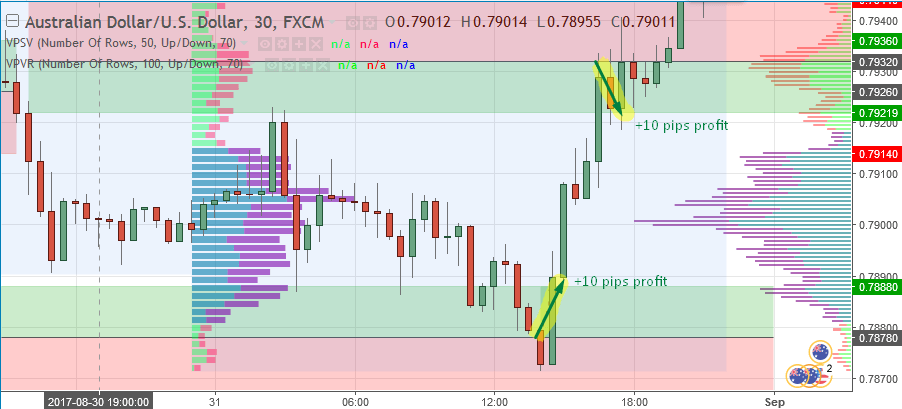 USD/CAD 1.2654 SHORT
This level got "tested,"  during the asian session when I was asleep. It got properly tested later and I got in the position with a limit order. When I came to the computer in the morning there was a nice rejection of higher prices and for that reason I let the trade run. It ended with full +10 pips profit.
Here is a screenshot from my platform (1 minute timeframe):
USD/CAD 1.2559 LONG
This level got hit around 25 minutes after Canadian GDP m/m release. If you look at the chart you can see that the reaction was really strong and the price was just constantly pushed down. For that reason I decided to be careful and not to enter this trade. Going against strong moves which are news driven, is almost always a bad decision. If I took it with a simple limit order it would be a profit. If I managed the position, I would have ended up with around a -4 pips loss. However, I didn't take that trade at all given the large news based push into the level. For those of you who are members, this rule is covered thoroughly in the Market Profile Day Trading Course.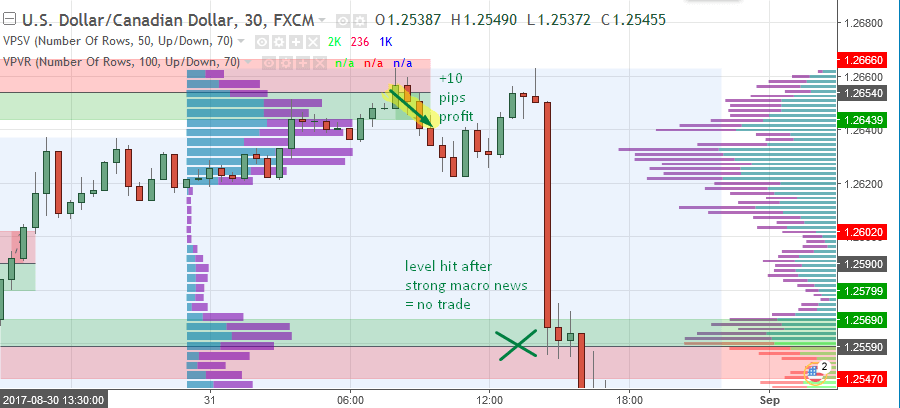 SUMMARY & Account Statement
Today was a very good day. 5/5 trades were winners, so we took +50 pips profit overall! Here is a screenshot from my cTrader trading platform with all the trades I took today:
BONUS
I have a little gift for you guys. Here is today's Daily levels commentary video that I make for members of the member's every day. In this video, you can see the reasoning behind each trade I took and why I'm looking to trade from that level. Enjoy 🙂
PS. If you would like to trade with me every day, you are very welcome to join me here: Dale's Pro Forex Course