Hello guys,
August is now over and I can say it was a bit of a tough month to trade. Let's have a look at the statistics:
INTRADAY TRADES
There were 47 trades in total. 27 were winners, 17 losers and  3 ended around break even. My overall result was +62 pips profit. I am pretty happy about this because the whole month was pretty tough to trade and most of the time I was circling around break even. As the month was getting near its end my levels started to work better and better until all went back to normal. Right now I am in the middle of winning streak of 14 successive trades in a row which is pretty cool.
3 Points to Consider
Even the best trading strategies have drawdowns or periods where they are break even. I am not trying to say that this month ended up bad because a +62 pip profit is good. The reason I say it was a tough month was more of a comparison to the average month. What I want to say is that even though this month was pretty tough, I and members of my Trading Course were able to make money in the end! Being able to survive and make a nice profit even during a tough month is a clear sign that you have a versatile trading strategy.
Summer months tend to be harder to trade than the rest of the year. This was also proven by this July and August. Both of them ended up in profits but trading itself was more difficult and the profits weren't that big as usual.
During tougher trading times, it is important to keep calm and stick to the strategy. If you have a proven trading strategy, you have to trade through any drawdown or you might miss the upside growth that would have turned the month around. So, the best thing to do when struggling is to keep going and change nothing. If you would, for example, halve your risk per trade in the middle of this month after you recognized you are struggling, you may end up missing the best part of the month and turn what should have been a profitable month into a losing one! So if you struggle – keep going provided you have a strong and time-tested trading strategy.
Here is a table and equity of all August intraday trades: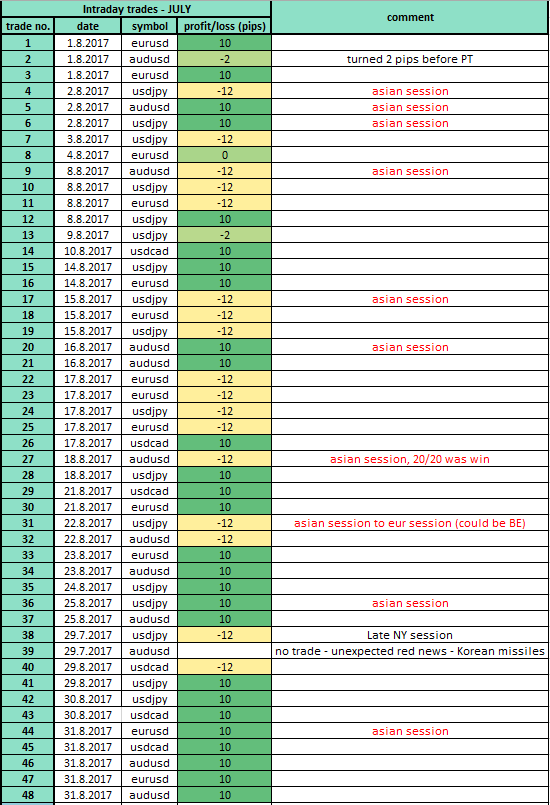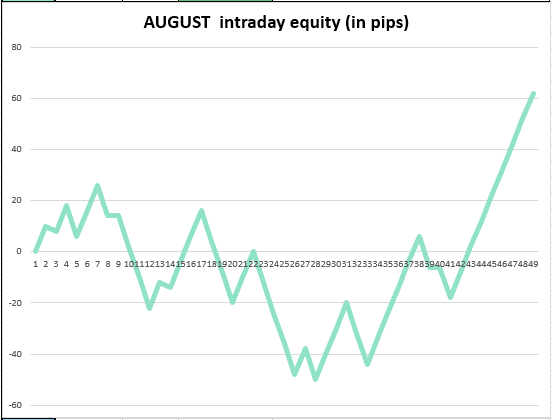 Results were generated using a Simulated Trading Account and are Hypothetical.
SWING TRADES
There weren't many swing trade opportunities this month. I expected that because of the slow Summer months. There were 3 swing trades in total and all ended up in a profit which was pretty nice. There was one trade that I didn't take (AUD/NZD) because of 73 pips reaction that came 10 pips sooner. For that reason, I considered this level already tested. The 2nd test would be a loss.
Here is a short table of the swing trades I took.
* I am using the ALTERNATIVE STOP LOSS APPROACH for my swing trades.
WHAT'S NEW?
I have a new Twitter account where I already started commenting on some trades in progress and other trading stuff. Check it out here: DALE'S TWITTER
There is a new section in my member's forum called "Member's levels," where the members share their own trading levels and ideas. It is running pretty nicely and the guys are doing really good job on finding their own levels on many different FX pairs.
I also published some FREE EDUCATIONAL VIDEOS this month. Check them out here:
Market Profile Webinar
CHF/JPY Long-Term Analysis
Daily Levels Commentary for 1.8.2017
Daily Levels Commentary for 31.8.2017
SUMMARY
August 2017 was the 12th month since I started publishing my trading levels. So far not a single one of these 12 consecutive months was a losing month!
You can check some of the trades I took here: MY RECENT TRADES, and also on my Twitter here: TWITTER
Happy trading
-Dale
PS. If you would like to trade with me every day, you are very welcome to join me here: DALE'S PRO FOREX COURSE