Hello guys,
here is a summary of my intraday's levels in March.
There were 25 trades. That is little bit below my average monthly number but still enough to give us some nice profits. There were 17 profit trades, 7 losing ones and 1 break even trade.
The beginning of month was just great. There was a winning streak of 8 trades in a row. It is quite usual that there is a worse period after such a good winning streak. It also happened this month. Shortly after the winning streak there were more losing trades that I would like but fortunatelly this worse period didn't last too long. At the end of March we finished with a total of +84 pip profit.
I noticed that asian session trades didn't work that good as they did last month. There were few trades in the asian session that the market just blew through without even noticing them. That was pretty weird. Still, Iam using limit orders during asian session because generally speaking asian levels work just fine.
There were also some cases that proved once again that entering your trade with market order is much better than with limit order. The reason being is some reactions to my levels were so precise and quick that a limit order just wouldn't get filled.
Here is a complete statistics of March 2017: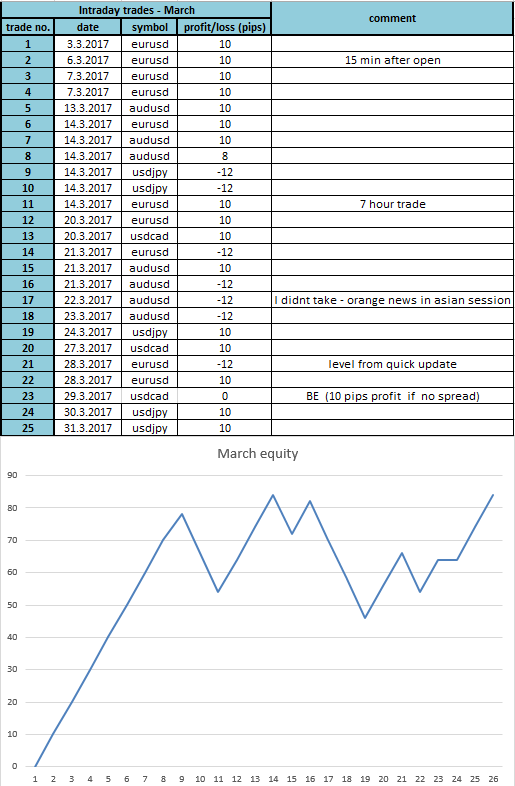 Results were generated using a Simulated Trading Account and are Hypothetical.
You can have a look in my Recent trades section where I comment on some trades that I took. Quite a lot of March trades are there.
Happy trading guys!
Dale