Beginning of my trading journey
My name is Dale, and I am a full-time trader since 2008. I have always been very passionate about economics, finance, and trading. I got my university degree in finance, before becoming a certified portfolio manager, investment manager, as well as getting my financial derivatives certification. I am proud to say that unlike most of all the trading "gurus," I actually have a proper education and certification. This is, of course, thanks to my parents who supported me enormously in my studies and who helped me at the start of my career.
Fresh out of college, I started to work as a market analyst for a major brokerage. Most would be grateful to have this position right out of college, but I didn't really feel it this way. I had two problems with this job. The first one was that I don't like having a boss who tells me what to do. I always studied hard to be independent not an employee. The second reason was that I didn't like how the company treated their customers. I think this is an issue with most forex brokers. They don't really care if their clients make money or not. They are selfish and focus primarily on their fees. They feel no responsibility, and they don't care about their clients best interest. I didn't like being a tool in such a company, so I left.
Eat, Sleep, Trade, REPEAT
After I quit my job, I focused all my efforts towards trading. This was my 100% focus; testing all sorts of different trading strategies, trying different trading approaches, backtesting various patterns and anything else you can think of for 12-15 hours every day.
I was trading various instruments and using many different trading styles. I was trading stocks, investment certificates, and automated trading systems. Currently, my primary focus is on manual forex trading.
When I started trading forex, I was under the impression that I needed to find a Holy Grail which would make me a big pile of money quickly. I was searching for this Holy Grail among various trading indicators. Needless to say that I sucked. I tried most of the standard indicators with many different settings, but nothing really worked. At least not in the long run.
My first tangible success was when I finally got rid of all the indicators and started anew with simple Price Action. For the first time, I felt I was getting somewhere! The big "eureka moment" came when I combined Price Action with Volume Profile. This was when I started to see a consistent edge and consistent profitability.
This website
I started this website in 2016 and since then I have done all I could to make it the best website about Volume Profile trading. My goal has always been to make the kind of website that I would love to visit when I was younger and when I was learning to trade.
In-depth trading courses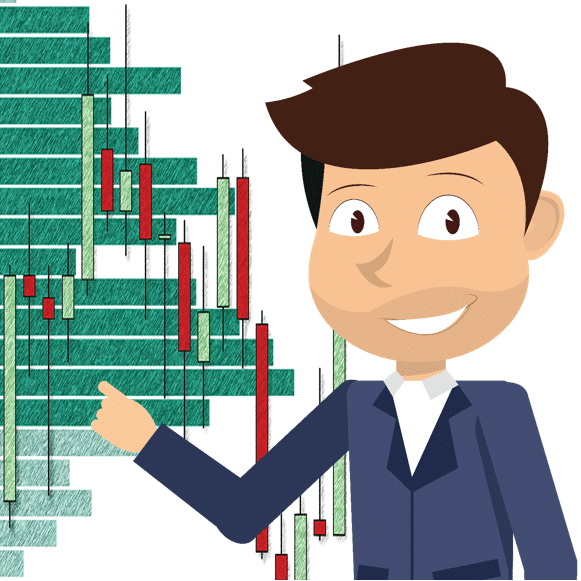 I have done several things to help traders even more than the website alone. I designed in-depth trading courses that help traders step-by-step in their journey to learning to trade with Volume Profile and other professional trading tools.
Members of my trading courses can follow me and get the strongest support and resistance volume-based levels which I publish for them twice a day.
They can also learn from in-depth 15 hour video course which I made for them in 2019.
You can learn more about my trading courses here:
Apart form the educational courses I also wrote a book about Volume Profile trading. It is called VOLUME PROFILE: The Insider's Guide To Trading.
This book covers all important aspects of trading and focuses on trading with Volume Profile and on describing my most favorite Volume Profile trading strategies.
Now tens of thousands of traders have this book and it even became an Amazon #1 Bestseller (in trading books category)!
Volume Profile indicators
Volume Profile is a trading tool I use every day. It is essential for my trading as it helps me to identify institutional trading activity (=the BIG guys).
The problem I had was that there was no Volume Profile indicator that would 100% suit my needs.
What I needed was a precise Volume Profile, able to work with tick data and which could be used for intraday analysis as well as swing trading analysis (Daily time frames,…). I also needed the profile to be fast and easy to use.
I could not find a Volume profile tool which had all those features so I had to develop my own.
Below, you can see two videos with the Volume Profile I developed.
Volume Profile for NinjaTrader 8 platform
Volume Profile for MT4 platform
Apart from Volume Profile indicator for NT8 I also developed a bit simpler Volume Profile for MetaTrader 4.
VWAP indicator
As an addition to my Volume Profile indicators I also developed VWAP indicator.
VWAP is a simple tool which is similar to standard average indicators like EMA, SMA,…but with one BIG difference. The difference is that VWAP calculates using Volumes! It simply reflects the fact that places where heavy volumes are traded are more important than places with only weak volumes traded.
There are many trading strategies you can build just around that!
What I personally prefer is to combine VWAP with Volume Profile. This for me is the golden combination because they complement each other so great!
You can watch a short VWAP Introduction video here:
ORDER FLOW
In 2020 I released my own Order Flow software and Order Flow video course. Order Flow is a fantastic tool for intraday trading and it absolutely shines when combined with Volume Profile.
Later that year I also released a new book: ORDER FLOW: Trading Setups.
I am really proud that both my books are still among the best selling books on Amazon!
Apart from all that I am always working on something new and something that would improve this website and mine (and YOUR) trading! What makes me really happy is when you guys like this webpage, when you visit it often, and when it helps you improve your trading!
-Dale
Do you want ME to help YOU with your trading?
Join one of my Volume Profile Educational courses and get my private trading levels, 15 hours of video content, my custom made Volume Profile indicators, and more!