Today I will look into an intraday trade analysis of the AUD/CAD. There was a strong buying activity all across the AUD related pairs yesterday and it created some nice trading opportunities.
Volume Accumulation
What I always like to see is a price rotation which is followed by a trend. I call this the Volume Accumulation Setup.
First, volumes get accumulated in the rotation and then the big guys push the price into the trend to make money.
Why do volumes get accumulated in a rotation? Because the big guys can hide there. They don't want to show their intentions. They want to enter their positions slowly and unnoticed.
Instead of entering for example 1.000 lot position, they do it like this: 1+1+1+1+1+1+1… Even if they do this super fast entering such a big position this way takes time. Why do they do it like this? Because this way they can hide their intentions! They don't want to send a message which would say that "a big guy has just entered a trade".
AUD/CAD Volume Accumulation
In today's example, there was a rotation on AUD/CAD. Heavy volumes got accumulated in this rotation.
The big guys entered their longs unnoticed in the rotation and then they started the uptrend.
What happens when the price makes it back to this volume accumulation area? Those big guys will most likely try and defend their long positions. In order to do that they will start aggressive buying to push the price upwards again.
This is what will make this area around 0.8618 a strong support.
Below is the AUD/CAD; 30 Minute chart: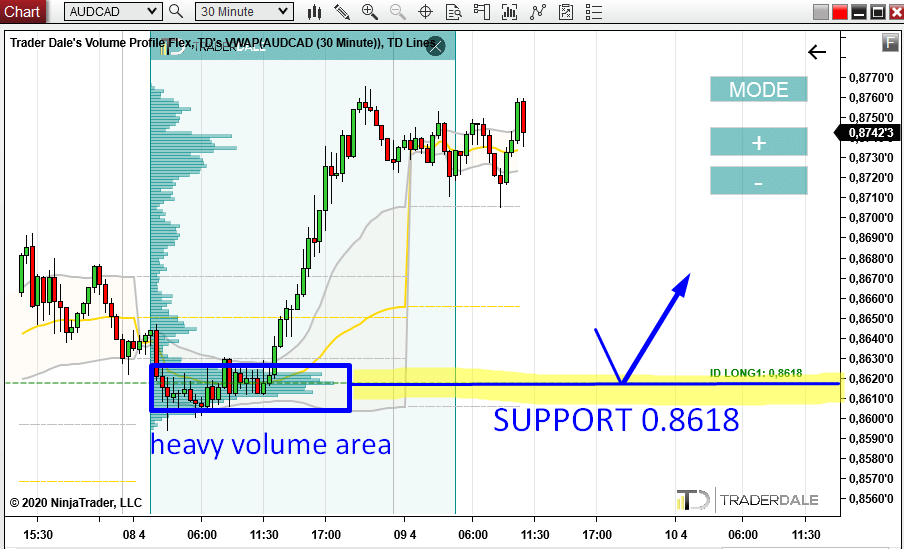 Weekly POC
There is one more confirmation to this support level. It is the Point Of Control of this week. This means that the heaviest volumes throughout this whole week got traded at this level (0.8618).
The Weekly POC is always an important thing to watch because every institutional trader who trades using volume indicators (most of them) know where the POC is.
In my opinion, the POC is the most important information the Volume Profile indicator gives you.
Below is a 60 Minute chart of AUD/CAD and with Weekly Volume Profile:
I hope you guys liked today's analysis. Let me know what you think in the comments below!
Stay safe and happy trading!
-Dale
Do you want ME to help YOU with your trading?
Join one of my Volume Profile Educational courses and get my private trading levels, 15 hours of video content, my custom made Volume Profile indicators, and more!