This article is a part of a four-part Beginners Guide to Volume Profile. Here are links to all four parts:
In this article, I am going to show you my three most favorite Volume Profile setups.
All the setups can be used with any timeframe. I prefer 30-minute charts for intraday trading, 240-minute or Daily charts for swing trading and Daily to Monthly charts for planning long-term investments.
Setup #1: Volume Accumulation Setup
This is my favorite trading setup. You can trade it in three steps:
1. To trade this setup, you must first look for a price rotation/tight channel, which is followed by strong uptrend (or downtrend). What happens in such formation, is that big institutions are accumulating their trading positions (in the channel) and then they start an aggressive trend. A Long scenario would looks like this: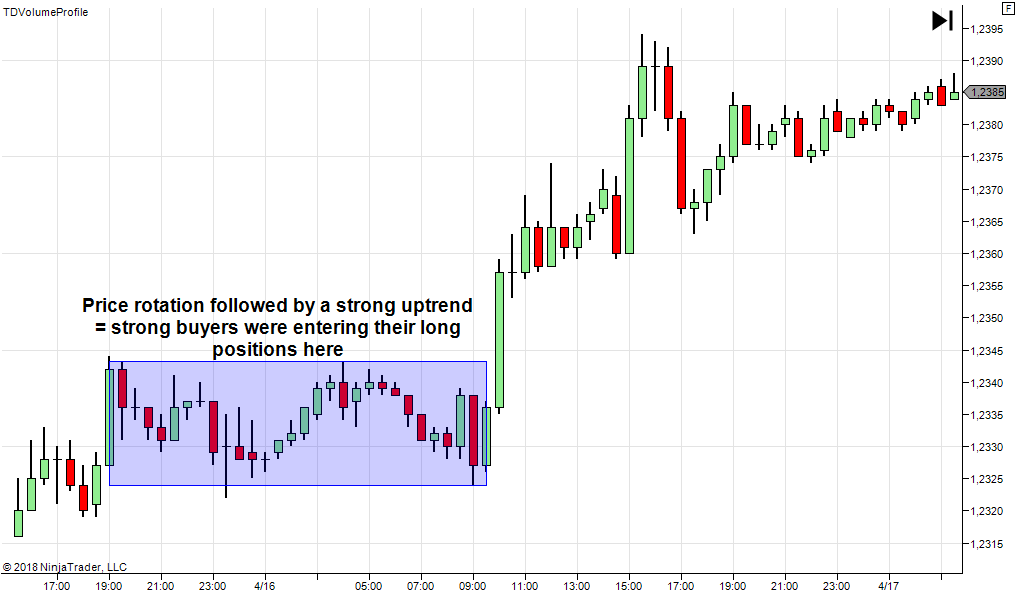 2. Use Volume Profile in the rotation area to identify where the heaviest volumes were. Draw a line there. This line will be your support (long trade scenario).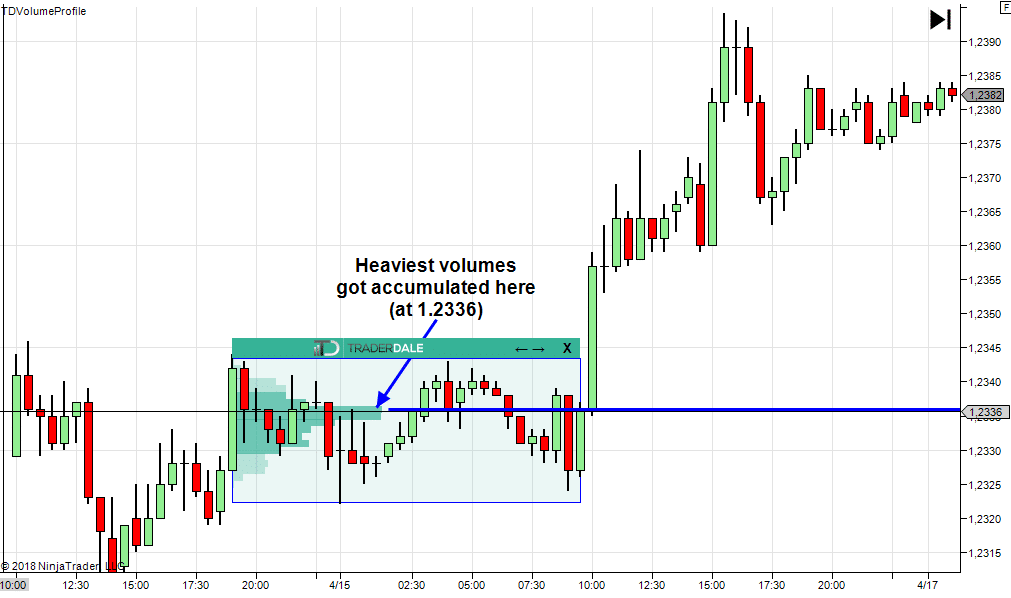 3. Enter your long trade when the price hits this support. No need to wait for any sort of confirmation, simply enter at first touch. It is also important to note that I only trade a level once.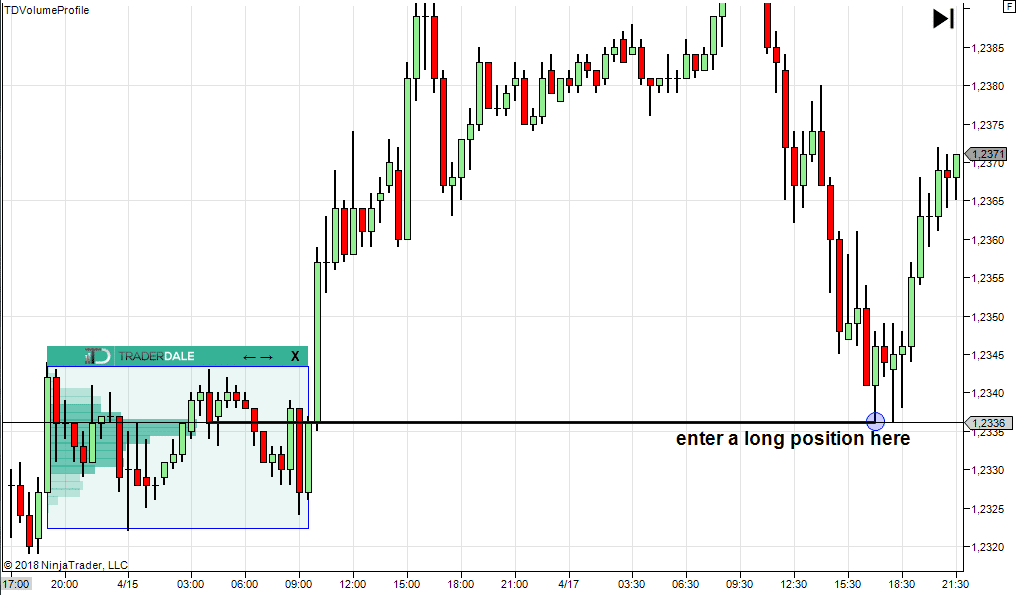 Logic behind the Setup #1
Let me now explain the logic behind this setup. There are two reasons (factors) why the price reacts to these volume zones so well. This reasoning also applies to all the other volume setup I am going to show you later.
Reason #1: Strong buyers/sellers who were accumulating their positions are likely to defend their positions and their interests. So, when the price returns to the volume accumulation area, strong buyers/sellers start to defend their positions aggressively. This means that strong buyers start aggressively buying to drive the price upwards again and defend the previous level from which they accumulated their longs. Strong sellers defend their short positions by aggressively selling which moves the price lower again. Here is a picture to demonstrate this (long trade scenario):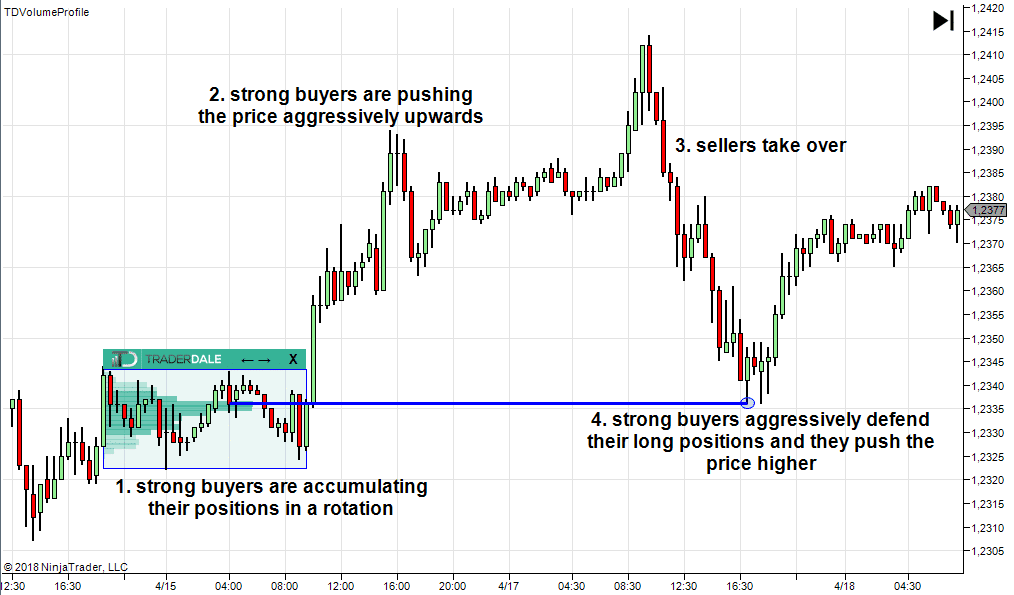 Reason #2: Nobody wants to risk a fight with strong and aggressive buyers/sellers.
Let me demonstrate this on an example: First, strong buyers accumulated their positions in a sideways rotation. Then they pushed the price aggressively upwards (this is the long scenario of Setup #1). After that, the buyers stopped pushing the price upwards for a while and sellers took over. They were pushing the price lower and lower, but when they approached the strong rotation where the aggressive buyers had accumulated their massive positions, the sellers stopped their selling activity and closed their positions. Why? Because they didn't want to risk a fight with strong and aggressive buyers.
When somebody who is in a short position wants to quit their position, he buys. So when those sellers start to buy to get rid of their selling positions, they drive the price upwards.
Let me make this more clear with a picture: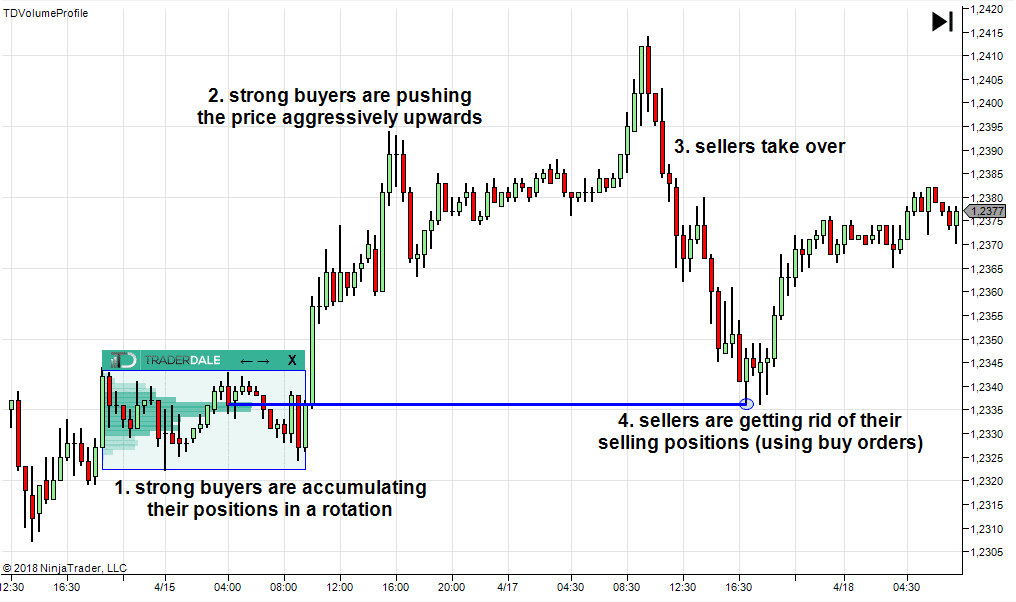 It is the combination of the two factors I showed you, that drives the price away from the support/resistance zones.
Do you want ME to help YOU with your trading?
Join one of my Volume Profile Educational courses and get my private trading levels, 15 hours of video content, my custom made Volume Profile indicators, and more!
Volume Profile Setup #2: Trend Setup
This is also one of my favorite Volume Profile Setups. Learn to trade it in four simple steps:
1. Trade this setup when there is a strong trend. So, the first step is to find a strong trend. If there is an uptrend, then you will be looking to trade long with the trend. If it is a downtrend, then you will be trading short.
2. When you have found a trend (in this case a downtrend), use Volume Profile in this trend to see how the volume was distributed throughout the move.
3. Look for significant volume clusters that were created within the trend. In this picture, there is one significant volume cluster in the middle of the downtrend. Draw a line from the place where the volume cluster was the widest. This will be your resistance area.
4. Wait until the price hits this level. Go short when it does. As with the previous example, there is no need to wait for any sort of confirmation.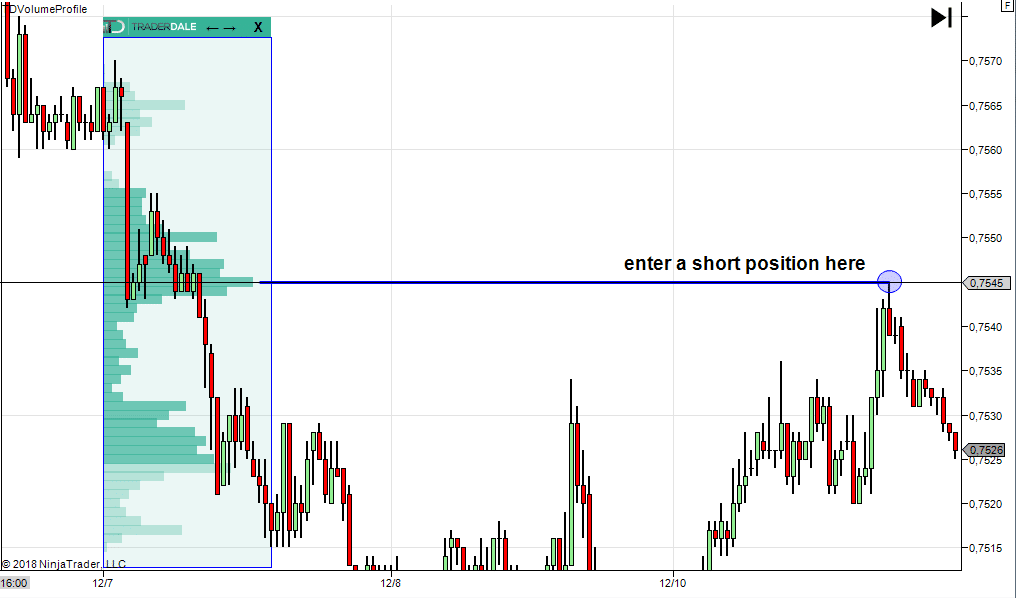 The logic behind the Setup #2
The logic behind this setups is, that sellers were pushing price downwards and they were adding to their positions in the places where we see the volume cluster mid-trend. When the price hits the volume clusters again, those sellers will likely become active again and begin to defend their short position. This, in turn, will push the price down from these volume clusters again.
The same two factors I mentioned in the Setup #1 apply here as well.
Recommended Forex Broker
Having a solid broker with low spreads and commissions is ESSENTIAL for PROFITABLE TRADING! Check out my recommended brokers
More Volume Profile Setups
If you would like to learn more of my trading setups, see more examples, learn more about trading with Volume Profile and trade with me every day then you may want to check my Volume Profile education packages here:
Dale's Volume Profile Training
Happy trading!
-Dale