Hello guys,
yesterday, I posted here a video with a couple of trading ideas for this week. If you missed it, then you can watch it here:
Volume Profile Trading Ideas – 11th October 2021
Today, I would like to show you one more. It is a day trading Support that has formed on CAD/JPY.
The first thing to catch my eye when I opened the CAD/JPY chart was the strong uptrend. Trends are usually very nice opportunities to trade.
The way I like to trade them is to wait until a trend is established – meaning that it is easily visible on a 30 Minute chart and it's strong. Like in this case.
Volume Profile Analysis
Then I use my Flexible Volume Profile indicator to look into the trend area (only into the trend area). I am interested in how volumes were distributed throughout the trend. What I look for are heavy volume zones. I call them the "Volume Clusters".
Such Volume Clusters represent strong Support/Resistances.
In this case, there is an uptrend. A Volume Cluster created within an uptrend represents a Support.
CAD/JPY, 30 Minute chart: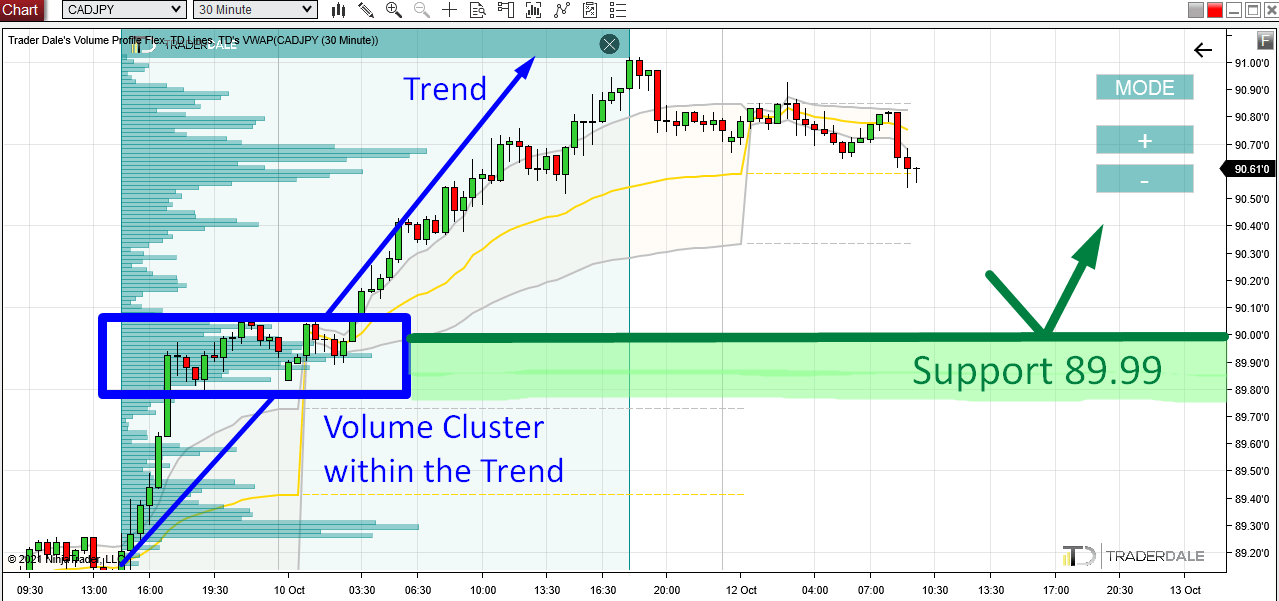 This Volume Cluster tells us that strong Buyers who were pushing the price upwards were adding to their Longs in this heavy volume area.
Those heavy volumes – that's them. The Big institutional traders.
Pullback to 89.99
When the price makes a pullback into this area again (starting around 89.99) then those strong Buyers should became active here again. They should try and push the price upwards from this zone once more.
The reason is that this zone is clearly important for them. They placed a lot of their Longs there.
They will want to add some more here – in this high-liquidity zone and push the price upwards some more.
That's what makes it a strong Support.
This Volume Profile setup is called the "Trend Setup" and you can learn all there is about it in my Volume Profile Training Course.
Do you want ME to help YOU with your trading?
Join one of my Volume Profile Educational courses and get my private trading levels, 15 hours of video content, my custom made Volume Profile indicators, and more!
I hope you guys liked my analysis! Let me know what you think in the comments below!
Happy trading,
-Dale