October is now over, so it is time for the monthly statistics. To begin, we will recap our intraday trades for the month of October. We will then get into our swing trading levels. If you're interested in learning to trade using the market profile trading strategy, these monthly recaps should give a good sample of what type of results are possible.
Intraday Trades
There were 42 intraday levels hit in October. This is in line with the long-term average of 2 trades per day. There were 24 winners, 12 losers and 5 trades that ended around break-even point.
Using my Market Profile trading strategy, the member's and I managed roughly +89.5 pips profit. October was a bit tougher than usual, as there were more situations that weren't as clear as usual. For that reason, I decided to write a new article where I present an in-depth and very detailed break down of how I trade my levels. The statistics I make for you every month is 100 % based on those rules.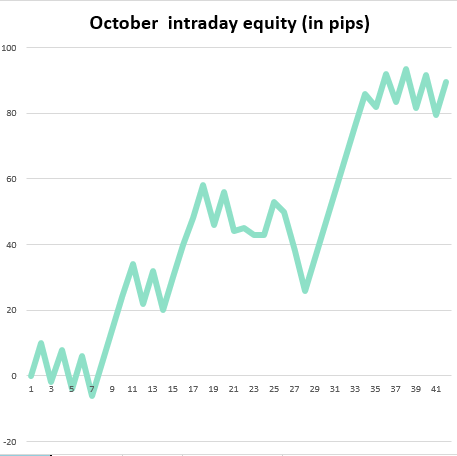 Results were generated using a Simulated Trading Account and are Hypothetical.
There are few points concerning trading in October that I would like to make:
1.) Asian Session Trades: As you probably know, I trade Asian session with simple limit orders (because I'm asleep). This strategy works in the long run, but there are times where you can make some adjustments to improve the results even further. The biggest risk when trading the Asian session is unexpected news that moves the market substantially, as well as the inability to manage your position actively. October Asian session trading was quite unlucky and overall ended up in a loss.
There were only 2 winners and 5 losers (which is nearly 50% less than the average win/loss ratio). What am I going to do about it? Exactly nothing. Even the best strategies have some up and downs and what matters is the overall results. Trading the Asian session with simple limit orders has provided many profitable months. The worst thing you can try to do is over optimize your strategy as you will soon find it's only profitable in very select market conditions. This is a general rule I apply in my trading and one that is important to learning to trade. This way I have a robust and time-proven strategy that does well in all market conditions.
2.) Simple Limit Orders Work Great: Even though simple limit orders were slightly down during the Asian session for October, they worked really nice for the US and European trading sessions. Actually, the monthly result would be around +50 pips better if I took all the trades just with simple limits and no position management at all! This is in line with the long-term statistics on limit orders that Vladyka (part of my community of forex traders) kindly made.
3.) Reversal Trades: A lot of trades that ended up as a loss, worked really nicely if entered as a reverse position on the pullback. This is something I have been testing and trading for a while as I believe you should always be looking for ways to improve your trading. I will be watching and trading those situations more actively moving forward. Here is a video I made for you to make the "reverse trading strategy" more clear:

Swing Trades
Using the normal position management for swing trading, we ended up with 3 winners and 1 loser as you can see listed out below. While the number of trades is rather low, the quality was high. This is a critical point as too often traders focus on the number of trades they are getting rather than the quality. Almost without exception, traders don't lose money because they took too few trades, they lose money because they took far too many trades. Analyze your own trading to see if this rule holds true for you as well.
While there is nothing wrong with taking more trades if there were more we would have taken them. What I'm getting at is don't compromise on the quality of the setup just because you want to increase the number of trades taken. This is a recipe for disaster!


What's New
One of the biggest things is a new version of the Trader Dale's EA (v2.31)!!! It has dramatically improved the Red News Filter, added Automatic Lot Calculations, fixed some other smaller bugs, and added/reworked some new cool features! For those of you who are member's, be sure to give us your feedback!
I have also started doing the Recent Trades Section in a more educational format so you can learn not only what trades I took and how I managed them, but also why I took the trade. If you're still learning use market profile, then this section will serve to be a huge resource. Please feel free to leave us feedback on this section, by using the comment feature at the bottom of each post.
Big News!
For a long time, I really wanted my own Custom Market Profile Indicator for Ninja Trader (NT) with all the cool features that other profiles were missing. Now, I have a true NT expert to do the job. In fact, he is one of the best professionals in this particular area! The profile isn't done yet, and it will still require some time to finish and test. Once it's finished (very soon) I will do a complete write-up and video to detail the features. I think you're all in for a treat!!
So, guys, that's it! I hope you had a successful month as well, and I am looking forward to trading with you in November!
Happy trading!
-Dale
P.S – If you would like my Daily Levels so that you can start 'Earning While You Learn,' then check out our Advanced Market Profile Training Course and Members Forum for more information – Click Here to Start Learning Now