What makes a trader profitable? Good strategy? Holy Grail strategy? I don't think so. Of course good strategy crucial but still there are lot of traders that have good strategies and fail. Personally I would say that good strategy is about 50 % of the success. You need more than just a good strategy to take money from the market constantly month after month. In this article I would like to make a summary of all the essentials you need to be a constantly profitable trader.
1. High quality broker
I have already written an article and made a video concerning brokers ( Best FX Brokers) but I am afraid I can't stress this enough. Having a solid broker is a must. Otherwise you pretty much don't have a chance. Don't forget – every pip counts. If your broker takes one pip on one trade and another pip on another trade it could eventually mean reversing your equity curve from rising to a falling one! I know nobody likes changes and changing a broker is a pain in the ass because it takes time and sometimes even some money to transfer your funds to another broker. Still it is worth both the time and the money.  Here are brokers I recommend:
IC markets – I trade with them myself and these are my current spreads: (EUR/USD 0.0 pip spread, AUD/USD 0.2 pip spread, USD/CAD 0.6 pip spread, USD/JPY 0.1 pip spread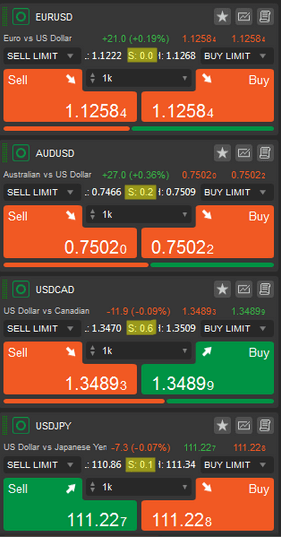 2. Good charts and data
Since going through charts is your daily bread and butter you need charting that you like and also data you can rely on.
I use TradingView for my charting because they have really nice and precise Market Profile visualization. They also have dependable FXCM forex data and 10 minutes delayed FREE (!!!) futures data. I use their futures data for analysis (they are more accurate than forex data) and then I calculate my futures levels into forex levels (I trade forex). Here are futures symbols for major forex pairs I trade:
E61! = EUR
A61! = AUD
D61! = CAD
J61! = JPY
If you want to use their Market Profile tool you need to have their PRO membership ($9.95/month).
TradingView platform with Market Profile visualization: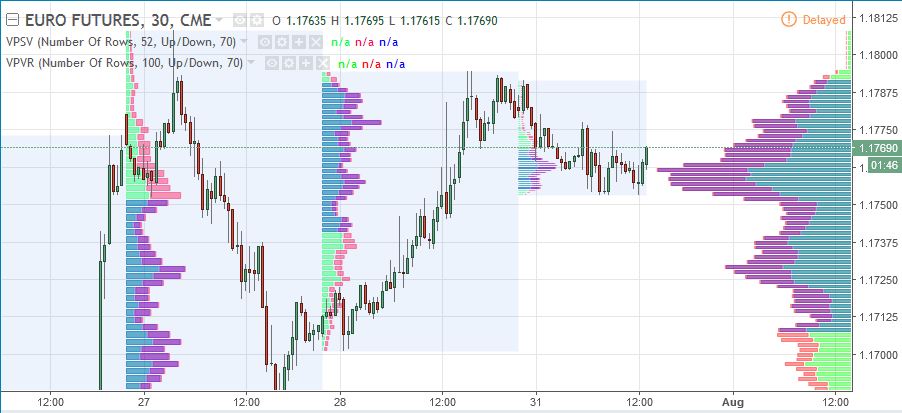 3. Calendar and News service
It is an absolute must that you know about all the significant news that are likely to affect the market you trade. For that I use Forex Factory. My advice is to never leave your intraday position open during "red news". If you do – it is just like a casino. Actually it is better to go to casino – at least you will have some fun and won't have a slippage there :). Remember: Never ever leave your intraday position open during red news. Not even 1 out of 1000 cases. Be strict.
Another handy tool is Forex squawk. It gives you really quick audio commentary on all significant forex news. It can be a bit disturbing sometimes but you can be sure you won't miss a thing. What I like the most about it is that if there is for example sudden strong move in the markets and my level is being approached quickly I immediately know what caused this move and whether it is safe to enter the trade or not. If the movement is event driven (significant event) I am usually more careful or don't take the trade at all. If it is not event driven I am more apt to take the trade even if it goes against strong price spike.
You can get Forex Squawk here for free (you only need to make a registration): FxPro Squawk
4. Risk per trade
I believe that it is important to risk the same amount of your trading capital on every trade. I know that some people risk more on levels/trades that they like more and also risk less on trades they aren't so sure about. In my opinion you should only take trades that are worth the risk. If you are not sure – don't take the trade. Not even with 1/4 of your normal position. It is either worth the risk or it is not. This approach probably isn't much popular among the majority but it works for me and I believe that it will also work for you. We don't have to do what the majority does, do we? Because majority of traders fails so I think that it is alright to do things a bit differently. I really believe that this black and white scheme could actually help you eliminate some bad trades.
Very important thing is not to change your risk per trade no matter what happens (in short term period). In other words –  if your working system takes 4-5 losses in a row, don't stop believing it and don't lower your position.  It is hard for some people because it goes against their primal instinct to "survive". There are also people who do the opposite. Losses enrage them and they start to add to their positions exponentially until they blow their account – there is no way out of this downward spiral. Please, don't be any of these extremes. Trust your strategy and when you suffer a series of losses. Don't change your risk. Always risk the same amount. This also goes for winning streaks. When you have a streak of 5-10 winners don't even think of doubling or tripling your positions. Hold your horses. With every other winning trade the probability of losing trades gets higher. Remember: always risk the same amount of capital no matter if you are in a losing or winning streak.
Don't get me wrong. It is okay to increase or decrease your lot size if you do it slowly and with a hard-rule plan. However, don't do it when you feel that you are affected by strong fear or greed.
If you trade with IC market's cTrader platform, you have a handy position calculator as part of it. If your trading software can't calculate position sizes, you can for example use this one: Position size calculator
5. Trade execution
When you made your analysis and created your levels – don't look back and don't start reconsidering if your level is strong enough  or whether to take the trade or not. Remember – when the price is getting near your trading level it is time for flawless execution, not for overthinking the situation or for second analysis. Your only concern should be only flawless entry and position management executed exactly according to your predefined rules. Nothing else. It doesn't matter now if it is a winner or a loser – only if the trade was executed flawlessly according to your rules.
6. Daily routine
Approach trading like a serious business it is. The minimum you should do is:
Make analysis of the markets and prepare your levels
Set alarms for those levels – if you are trading manually. Set limit orders or EA if you are not trading manually
Take a look at the macroeconomic event calendar (Forex Factory…) to see what the most significant news will be. Write them down, set an alarm…do whatever you need to do to prevent yourself accidentally  being in a position during the news.
Have a time schedule. Know when you trade actively (manual trading – for example during busy hours like EU and US session overlap…), passively (limit orders – for example asian session). Also know when you don't want to trade (big news days, bank holidays,…) and when you don't have to be at the screen. For example – I plan my time off the screen at the late NY session, around 11 a.m. – 1 p.m. (UTC+2) and the whole asian session which I trade using limit orders.
Review you trading day and write down your trade info into your trading journal.
7. Trading journal
Have a journal that suits you. If you are analytical type and like collecting and analyzing vast amounts of all different data help you improve your trading – go ahead and make it complex! If you don't like working with lot of data and prefer keeping it simple – no problem. Just make sure that you write down all the essentials that help you review your past trades well enough for you to learn and improve.
In my opinion, your journal should contain at least these data: date, instrument (fx pair), profit/loss in pips and in USD and some notes about the trade. I think it is important to write down any mistakes you did (breaking rules,…) and also what you did well in the notes section. Extremely useful is also taking screenshots of your trades and reviewing them later.
Remember – the more detailed data you collect, the easier it would be for you to backtest, optimize, test new ideas or find any problems that need fixing.
Working strategy
Apart from these 7 essentials you also need a reliable and working trading strategy. If you don't have any, why don't you join my course and use my own trading levels? I trade them successfully every day!
You are very welcome to join me and my members here: DALE'S PRO FOREX COURSE
That's it.
I believe that if you have all the above mentioned and combine it with a working strategy, there is nothing that could stop you from having constant profits month after month. Just make sure that you really have it all and don't do any compromises.
Happy trading!
-Dale