Hello my friends,
here are my statistics of April. Apart from the fact that I got sick and wasn't able to trade as much as I would like to (also because of bank holidays and some low volume days), it was a very good month. There were only 19 trades but we were able to get most of them. 14 of my published levels were winners, 2 ended at break even and there were only 3 losses. There was also a very nice winning row of 13 consecutive wins that started in March and ended April.
Here are all the April trades with equity: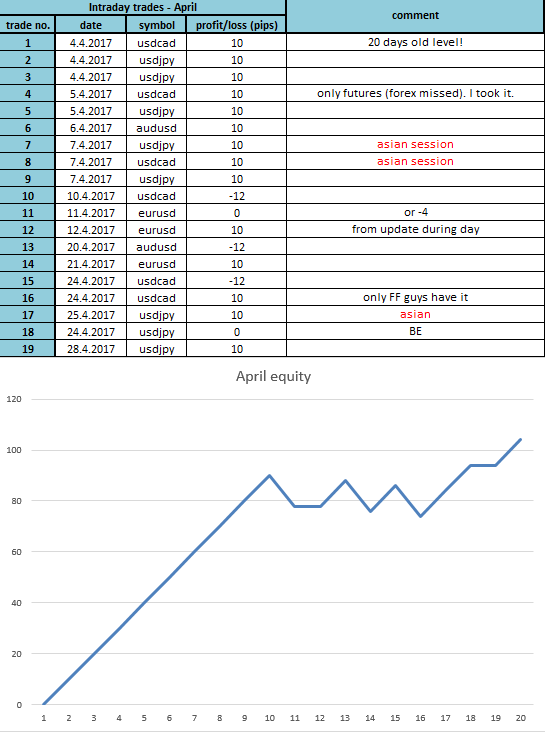 Results were generated using a Simulated Trading Account and are Hypothetical.
There are some things I would like to point out:
The first trade in this month was a usd/cad short that was around 3 weeks old level. Reaction to this level was so precise that the price didn't go even a single pip against this level! This trade really made my day. It certainly confirms that market reacts to my levels pretty good no matter how old they are. Here is the trade:
usd/jpy is making wonders lately. Usd/jpy was clearly the best performing pair this month – 8/8 trades were winners. What else is there to say 🙂
According to my statistics there were only 3 levels hit during asian sessions this month, still all of them were winners. Asian sessions remain very good for trading. I still trade them only with simple limit orders and it works just fine.
You can find most of my April trades in the RECENT TRADES section.
Happy trading
-Dale