Today, I would like to show you my favorite setup combo. This combo consists of a Volume Profile setup and Price Action setup.
It formed on Tuesday on CAD/CHF and it is best seen on a 30 Minute or 60 Minute time frame.
Volume Profile setup
As the price was pushed down into a new downtrend on Tuesday, there was a little rotation around the middle of the down move. In this little rotation, pretty heavy volumes got traded.
You will see this when you use my Flexible Volume Profile on the whole trend area – as I did in the picture below.
Those volumes created a heavy volume cluster which tells us this:
Sellers who were pushing the price downwards were adding to their short positions in this area. From there, they pushed the price even lower, and the downtrend continued.
This heavy volume cluster is now an important place for those sellers because they placed a lot of their money there.
Because of this, I expect that when the price makes it back into this area those sellers will want to defend this area again. They will become active and they will try to push the price downwards from this area again.
This should make this level a strong resistance and the price should react to it.
Now we just need to wait for the pullback, into the 0.6965 area (0.6965 is the Point Of Control of this volume cluster which means the heaviest volumes were traded right there, at this level).
CAD/CHF, 30 Minute chart: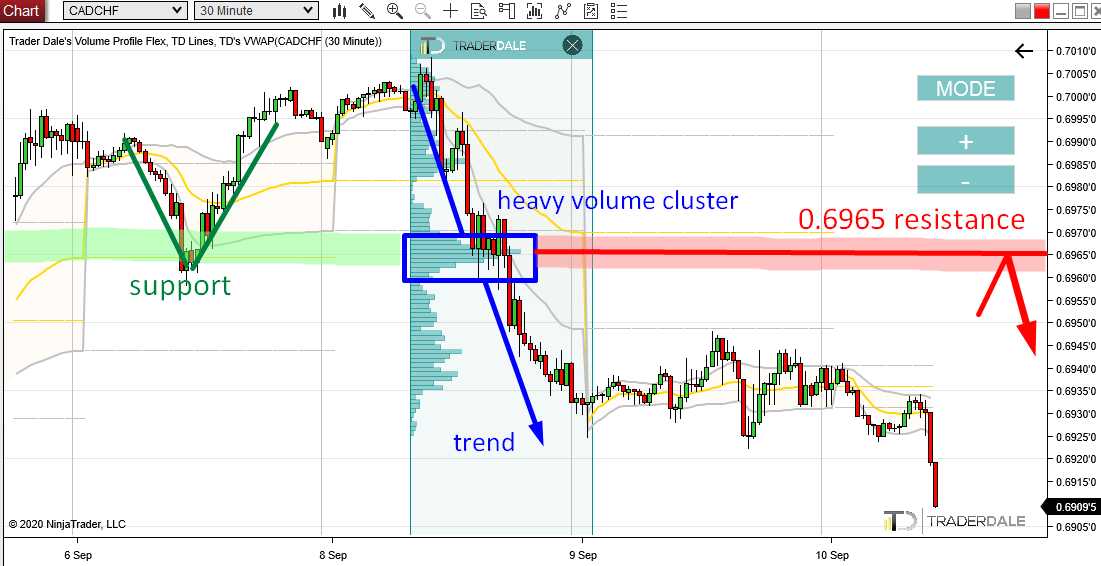 Do you want ME to help YOU with your trading?
Join one of my Volume Profile Educational courses and get my private trading levels, 15 hours of video content, my custom made Volume Profile indicators, and more!
Price Action setup
If you look at the picture above again, then you can see that I also marked this level in green as a support. That's because it worked as a support in the past. You can tell by looking at the strong reaction to this price level on Monday.
On Tuesday though, the support got breached and the sellers pushed the price through it. This turned the former support into a new resistance.
You can learn more about this setup here:
Price Action Setup: Support → Resistance
Now, what I like about this the most is that this newly formed resistance is at the same place as our volume-based resistance (based on the Trend setup)!
It is the combination of those two setups that makes this resistance strong.
That's what makes this my favorite trading combo that I am always looking forward to trade!