Today I closed a winning trade on the EUR/USD. If I didn't use the Alternative SL approach (which I use for all my swing trades), this trade would have ended up as a losing trade! Lets now have a look at the reasoning behind the trade:
The reasoning behind the trade (EUR/USD long from 1.1414)
This long trade was based on a level which was exactly 1 year old. I don't really mind trading old levels – especially when it comes to swing trading. Over my 10+ years trading career I saw many times that the markets have an extraordinary memory. The price reacts even to the oldest trading levels without hesitation.
My level was based on the "Trend setup" which formed during the uptrend a year ago. I assumed that heavy volumes of strong buyers were accumulated in the volume cluster around 1.1414 (marked in black rectangle). Then the buyers pushed the price upwards.
Before the price hit the level again, I published in my member's area that I would enter a long trade from there. My reasoning was that those strong buyers that pushed the price upwards last year would defend their positions and that they would push the price upwards again.
How the trade went…
As you can see I was right but the reaction wasn't immediate! The price went through my long level and hit the SL. I didn't close the position though. The reason was that I always use the alternative SL method for all my swing trades. With this method, I only close my swing trades if the Daily candle closes past the Stop-loss level. Not before!
In this case, there was a pinbar candlestick (Daily chart) formed with only the tip of the wick touching the SL level. This was a good sign because Daily pinbar indicates a strong rejection – in this case, strong buyers possibly entering the market!
After this rejection of the lower prices, the price went upwards without any major pullbacks and I was able to take a full +100 pip profit.
*Notice that if I weren't using the Alternative SL method, my outcome would be -100 pips. That is 200 pips difference made just by a different approach!!!
A good place to quit the trade
There is one more thing I wanted to share with you. If you look at the picture, you can see that the price is currently entering a strong resistance zone. If I still were in the long trade I would most likely quit the position somewhere around the 1.1500 – 1.1550 area because I wouldn't want to risk being long against such a strong resistance.
A lot of traders (or institutions) will probably be afraid of this strong zone and they will take their profits and close their positions while they are still in green numbers. No-one wants to risk a possible fight against strong sellers at a strong resistance zone. By quitting long positions they cause the price to drop. This could sometimes work as a self-fulfilling prophecy. And that's how the markets work!
Now, what is the reason I consider this zone a strong resistance? Actually, there are three reasons:
Three reasons behind the resistance zone
1. There were many really strong rejections of this level in the past – which tells us that it was a strong support which became a resistance – when the price went past it.
2. There is a significant volume area at 1.1600 and then really heavy volume area in the 1.1650 – 1.1750. Those are most likely to work as really strong resistance zones.
3. The EUR/USD is still in a very strong long-term downtrend. It usually pays off to be careful with counter-trend trades like this one.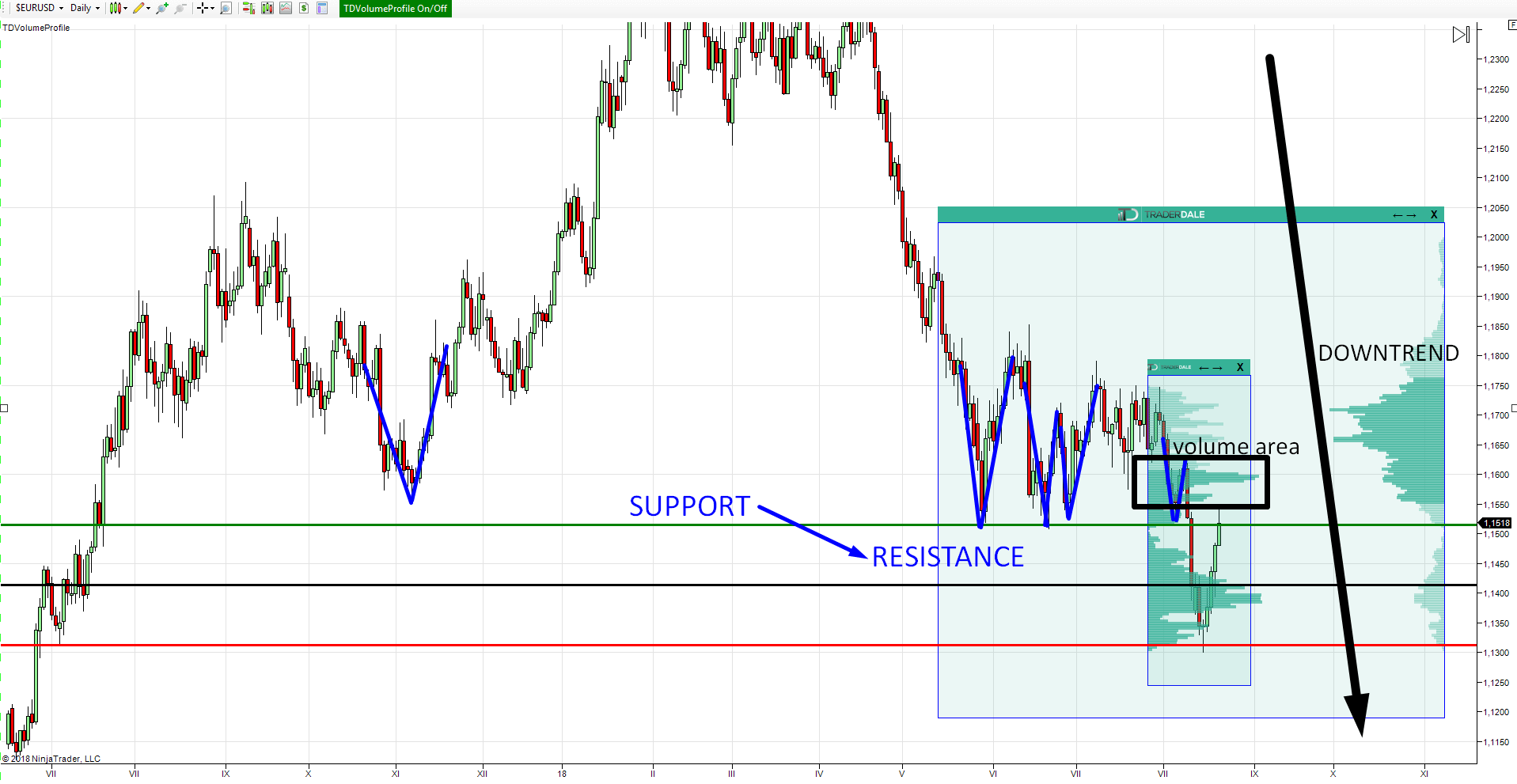 I hope you guys found this information and reasoning useful. If you have any questions let me know in the comments below!
PS. I have just released a new book: VOLUME PROFILE: The insider's guide to trading. I put a ton of work into it and I am sure it will prove extremely helpful to you. Go and get your copy HERE. I guarantee you that this will be the best $4.99 you ever spent.
PPS. I am using my custom made Flexible Volume Profile for all my analysis. You can get it here: TD's Flexible Volume Profile
PPPS. Want my intraday trading analysis every day as well as swing trade analysis for 15 forex pairs every month? Then check out my Advanced Volume Profile Training Course and Members Forum for more information – Click Here to Start Learning Now
Happy trading,
-Dale