Hello guys,
September is over so it is time for the monthly statistics. Let's start with the intraday trades:
INTRADAY TRADES
There were 38 trades in total, which is in average roughly 2 trades per day. There were 24 winning trades, 10 losing trades and 4 trades that ended around break even. The overall result was +124 pips profit.
If you look at the equity curve you can see that there were 2 very nice winning streaks at the beginning and end of the month. The middle of the month was rather flat. You can see how important it is to take all the trades and not miss any period. If you, for example, missed just 3 days (27.9. – 29.9.) you would miss 6 winners in a row, which would really be a shame.
I am glad that asian session trades work really great even with simple stupid limit orders. There were 6 trades in asian session, 5 winners, and only one loser this month. This one loser was caused by unexpected news from North Korea (shame on you Kim). When I first started trading asian sessions I was a bit afraid because I wasn't at my computer (asian session is when I sleep) and wasn't able to watch the charts. Therefore, I had absolutely no control over my asian session trades. It took some time to gain confidence in trading like this but in the end, it is totally worth trading asian session this way. Asian session is usually calmer and doesn't have too many news. For that reason, market reacts really nicely to key levels and very rarely runs through them.
Again, it proved pretty crucial to have a solid broker with tight spreads. There were some trades that would only be winners with tight spreads. If you are still struggling with your broker you may consider switching to one of my recommended brokers.
Here is a table and equity of all September intraday trades: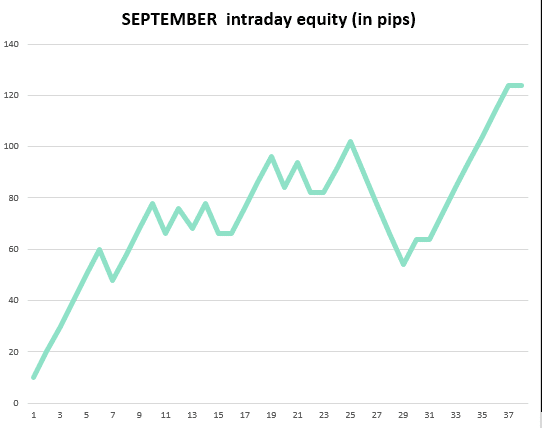 Results were generated using a Simulated Trading Account and are Hypothetical.
SWING TRADES
There were only 3 swing trading opportunities this month. My first level on aud/nzd got tested just a tiny bit sooner which is a shame since there was a really nice reaction to it. My first eur/gbp long level was a pretty quick loss. The market went straight through this strong long level and there was basically no way to prevent or avoid a loss there. After that, my swing trades went pretty smoothly with two winning trades on eur/gbp and aud/cad.
* I am using the ALTERNATIVE STOP LOSS APPROACH for my swing trades.
SUMMARY
After quite a tough August, September was a pretty good month. Sometimes a bit slow with not as many levels as usual but still the overall result was pretty nice.
Happy trading!
-Dale
PS. If you would like to trade with me every day, you are very welcome to join me here: DALE'S PRO FOREX COURSE