I was looking forward to taking this trade on the EUR/USD for quite some time. I really liked the volume accumulation (marked in red rectangle) and the strong sell-off that came after that. It was pretty nice sign of sellers accumulating their selling positions and pushing the price down afterward. So basically I just waited for a pullback to this area and went short from there. The reaction was really precise. I thought that the overall reaction would be bigger but even this was good enough for me to bank a nice +10 pips profit. You see that even after more than a week the market remembers the strong levels and reacts to them.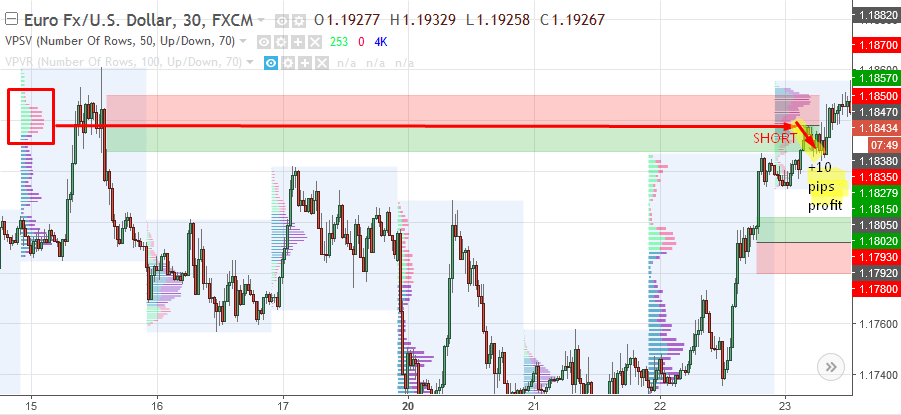 There was accumulation of pretty heavy volumes on the AUD/USD. After that there was a strong selling activity (in macro news). I call this "Volume accumulation setup". It is my favorite. I was waiting for more than a week for a pullback to this area. Even though there was some price rotation above my level, the strong sellers won the fight and pushed the price lower again – into my +10 pip profit target (actually I got positive slippage and ended up with +11,6 pips :))
This short trade on the USD/JPY was based on my 2nd setup – the "Strong Initiation Setup". USD/JPY is in a downtrend and for that reason I was looking for some significant volume clusters created within the strong selling areas. There was a pretty nice one at 111.54 so I waited for a pullback to this volume cluster and went short from there. Reaction was quite precise and fast – that's what I like 🙂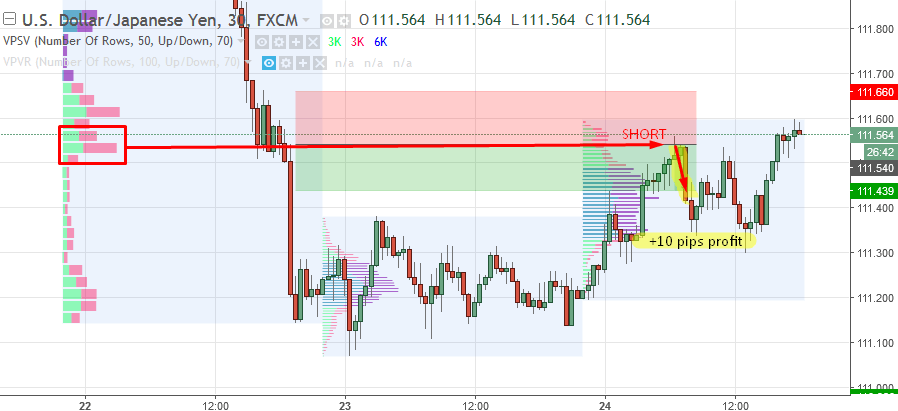 We had a pretty nice and profitable week with my friends and members of my Pro Forex Course. If you would like to join us and trade with us every day, you are very welcome to do so here: Dale's Pro Forex Course
Happy trading!
-Dale