I was asked in an interview that I was doing recently, to provide the framework for my complete trading strategy. I decided to put it all together in this article.
Volume Cumulation Strategy
The main idea behind this strategy is to identify whether the large market participants are long or short.
Currency Pairs
EUR/USD, AUD/USD, USD/CAD, USD/JPY. Those Are the instruments that I use. However, you can use other major pairs as well. If you would like to add additional pairs, then I would suggest adding the NZD/USD and USD/CHF. Crosses won't have as good of a win/loss ratio, but you can still trade them. I only recommend doing this AFTER you have mastered the strategy on the recommended pairs. Also, cross pairs will have wider spreads which is another reason I prefer the majors.
How to Set Your Stop Loss & Take Profit

There is more than one way to set your stop loss and take profit.
PT: 10 pips, SL: 12 pips (this is my preference)
PT: 20 pips, SL: 20 pips. This method is covered here: Ziggy's Easy 20/20 method
Timeframe: 30-minute price chart (or any other that suits you from M15 to H1), Daily volume profiles (1 profile = 1 day)
Step By Step Trading Plan
Look for an area with heavy volume cumulation that is followed by aggressive buying or selling activity (30-minute chart). Heavy volume cumulation areas are usually found in sideways range bound markets.
Identify the Point Of Control (POC) in the volume cumulation area. The POC is the price point where the most volume was processed.
Wait for the price to return or pullback to the POC.
Enter your position in the direction of the aggressive buying/selling activity that followed the cumulation phase. You would enter a long position if there was aggressive buying activity, or you would take a short position if the volume cumulation was followed by aggressive selling activity.
Position management:

Aggressive Approach: Leave your position on without any trade management. There are only 2 possible outcomes, a full +10 pip profit or a full -12 pip loss.
Neutral Approach: Secure your position by moving SL below/above the reaction area when you are around +7 or +8 pips in profit.

Macro news: Don't enter a position if there is significant macro news coming up (10 minutes or less). Don't enter positions during and shortly after the significant macro news. If you're not sure which news to avoid, you can simply avoid anything marked as 'red' high impact news on ForexFactory.
BONUS TIP – You don't have to do this but if you want to have more trades you can trade other strong volume areas in the daily profile – not just the POC. This is much more advanced and I would only recommend doing so AFTER you have mastered trading from the POC.
Example #1
Example #2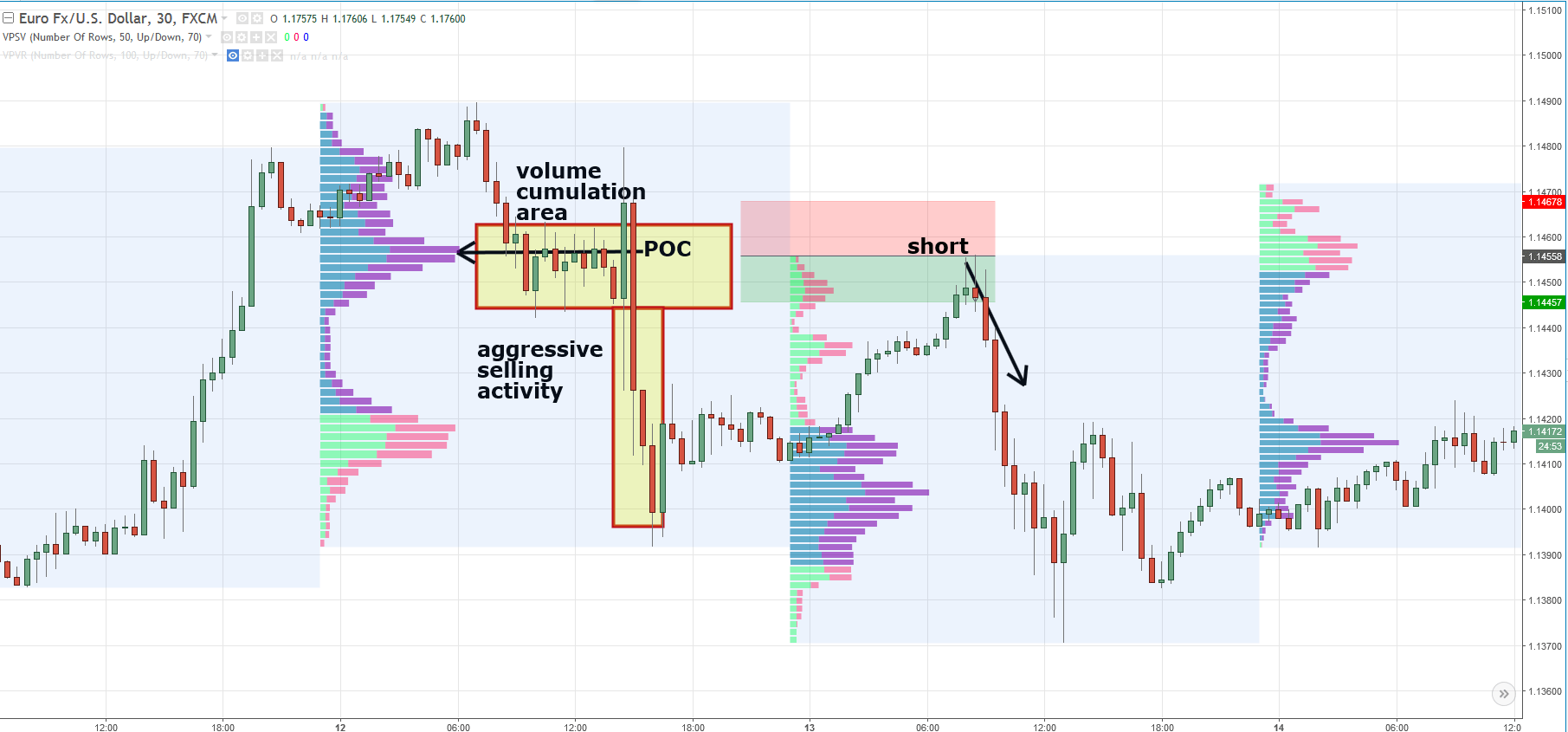 Requirements
Reputable Broker

Broker commission and spread can add up over time. By trading with a broker that has tight spreads and fast execution you can greatly reduce your overall trading costs.
Market Profile Charts
I personally prefer to use Market Profile from Trading View. Members can use our Free Market Profile Indicator, but I personally prefer the Trading View charts. They are a bit more user-friendly, and if you're serious about learning to trade using market profile, then I would highly recommend checking them out.
Go Ahead And Try It!
You now have all you need to start trading this strategy yourself, so go ahead and try it. Like any trading strategy, it will take time to learn and master. You should not expect to learn the strategy overnight, and if you don't immediately start looking for another strategy. System jumping is a major problem that keeps traders losing money. If you believe in what we teach, then commit to dedicating the time to learn it!
Happy trading!
-Dale
P.S – If you want to become a member of my Pro Forex Course and get access to the Propitiatory Market Profile Course, Daily Levels Video, Swing Trading Levels, Auto Trading EA, Member Forum, and Personal Support you are very welcome to join here:  Trader Dale's Pro Forex Course