Hello,
I was asked in an interview that I was doing recently for 52 Traders (the interview is not out yet) to provide "bones" of a full trading strategy that I use. Here is the complete strategy description:
Volume cumulation strategy
The main idea behind this strategy is to identify positions of big institutions and to find out if those positions are long or short.
Instruments
EUR/USD, AUD/USD, USD/CAD, USD/JPY. Those Are the instruments that I use. However, you can use also other major pairs – I suggest adding NZD/USD and USD/CHF. Cross pairs won't have that big winning rate (but good enough to be profitable). Also cross pairs will have wider spreads which will also affect the results.
Profit Target, Stop Loss

There is more than one option to do this
PT: 10 pips, SL: 12 pips (this is how I do it)
PT: 20 pips, SL: 20 pips. This method is covered here: Ziggy's Easy 20/20 method
Timeframe: 30 minute price chart (or any other that suits you from M15 to H1), Daily volume profiles (1 profile = 1 day)
Here is how it works
Look for area with heavy volume cumulation that is followed by aggressive buying or selling activity (30 minute chart). Heavy volume cumulation area is usually in a long sideways price action (price channel).
Identify Point Of Control (POC) in this volume cumulation area. POC is the place where Market Profile is the widest. This means that most volumes were cumulated at this price level.
Wait for the price to return to the POC (= pullback to POC)
Enter your position in the direction of the aggressive buying/selling activity that followed the cumulation phase (= long position if there was aggressive buying activity, short position if the volume cumulation was followed by aggressive selling activity).
Position management:

Aggressive approach: leave your position be without any management. There are only 2 possible outcomes: full +10 pip profit or full -12 pip loss.
Neutral approach: Secure your position by moving SL below/above the reaction when you are around +7 or +8 pips in an open profit.

Macro news: Don't enter position if there is significant macro news coming up (10 minutes or less). Don't enter position during and shortly after significant macro news. I consider significant macro news those that are marked in red color at Forex Factory.
BONUS TIP – you don't have to do this but if you want to have more trades you can trade also other strong volume areas in the daily profile – not just the POC.
Example 1: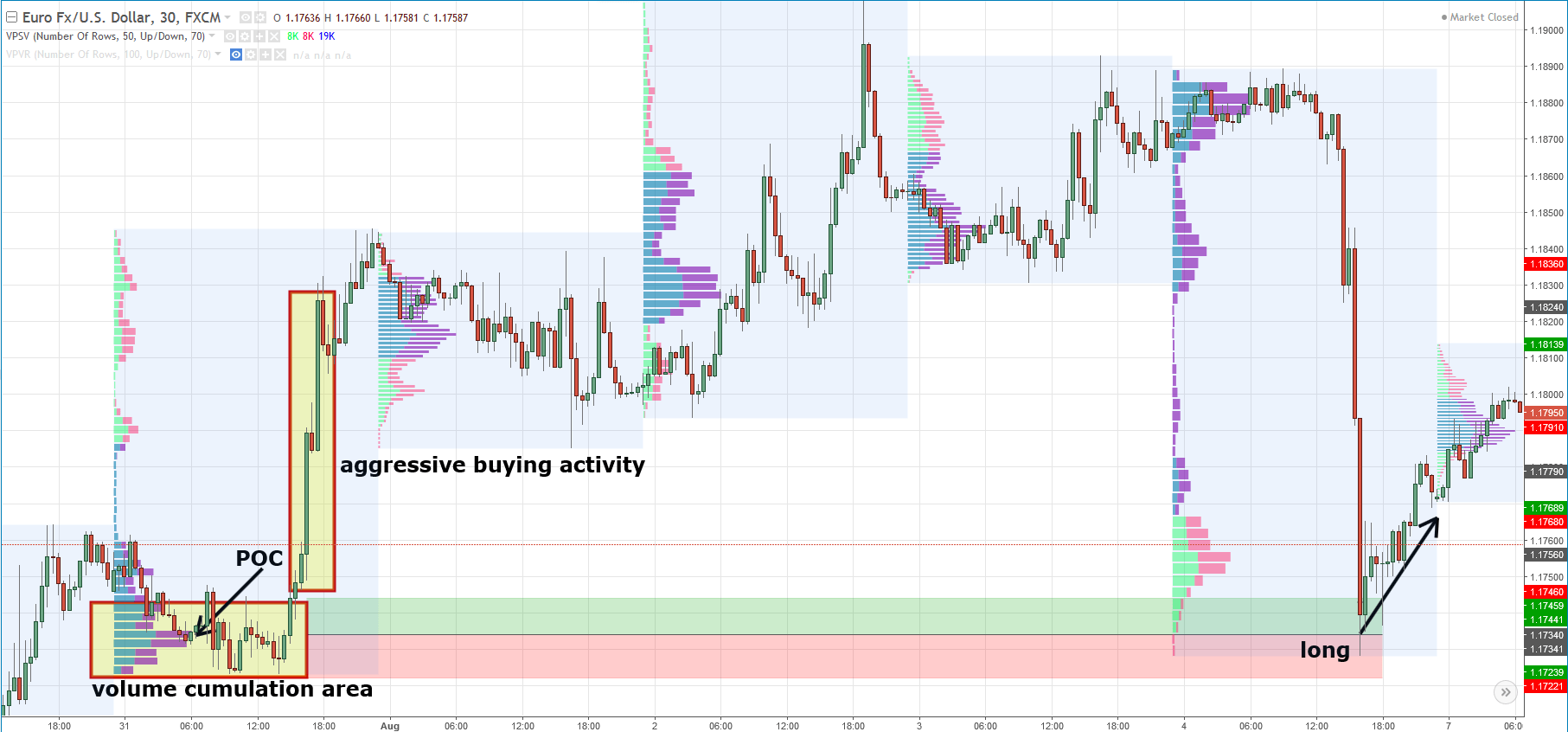 Example 2:
Requirements
– Solid broker

You need good broker with really tight spreads. I recommend:
– Market Profile
I use Market Profile from Trading View
Go ahead and try it!
Hopefully now you know all you need to start trading this strategy yourself. Go ahead and try it! I trade it every day and it is highly profitable.
Happy trading!
-Dale
P.S – If you want to become a member of my Pro Forex Course and get access to the Propitiatory Market Profile Course, Daily Levels Video, Swing Trading Levels, Auto Trading EA, Member Forum, and Personal Support you are very welcome to join here:  Trader Dale's Pro Forex Course