AUD/USD 0.7903 LONG
This long level was based mostly on a weekly POC. Weekly POC means that most volumes of the whole week were placed at this particular price level. I waited for a pullback to this POC and went long from there. You can see that the reaction was pretty sweet.
There was a slight difference between futures and forex data. I made my analysis on futures which had the POC little bit higher than forex. For that reason my level was also a bit higher than the forex data POC you see in the picture.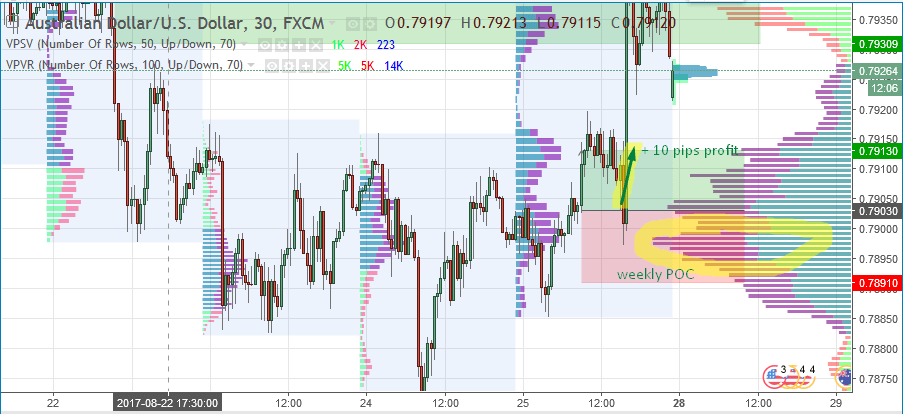 Here is a screenshot from my platform (1 minute chart). Reaction to weekly POC was pretty precise. I was also happy that the trade was finished quite quickly because there was upcoming Yellen's speech and I absolutely didn't want to be in an open position at that time. I took +10 pips profit there.  There was pretty strong sell-off after I quit my position. I am glad I wasn't in that long position anymore when that happened 🙂
USD/JPY 109.70 SHORT
This trade was based on a volume cumulation area that took place on Wednesday. It was also a pretty strong zone from the price action point of view. There was quite strong counter move against the level but fortunately the selling activity was also pretty strong and the profit was nice and quick one. I took this with a limit order because I was asleep at that time. Nice and easy +10 pips profit 🙂
Summary
All in all +20 pips profit for me today. Nice end of the week really. I will definitely keep an eye on strong weekly volume areas (like the weekly POC) in the following week 😉
Happy trading!
-Dale
PS. If you would like to trade with me every day, you are very welcome to join me here: Dale's Pro Forex Course