Hello guys,
today's focus will be on day trading analysis of AUD/CAD.
There was a trend development on many Forex pairs yesterday. AUD/CAD was not an exception.
A trend day usually creates many trading opportunities, like in here.
Volume Profile Analysis
If you use my Flexible Volume Profile on the downtrend that formed yesterday then you will see that there is one really significant area.
This area is around 0.9645 and it is significant because heavy volumes got traded there – you can tell because Volume Profile is really wide there.
What does this mean when you see it in a downtrend?
It means that strong Sellers were adding to their Shorts massively there. Then they pushed the price downwards some more.
When there is a pullback into this area at some point in the future those Sellers are likely to defend this place. They placed a lot of their Shorts there and this place is important for them.
This is why it should work as a Resistance and the price should bounce off this place.
This is one of my favorite Volume Profile setups and it is called the "Trend Setup".
AUD/CAD; 30 Minute time frame: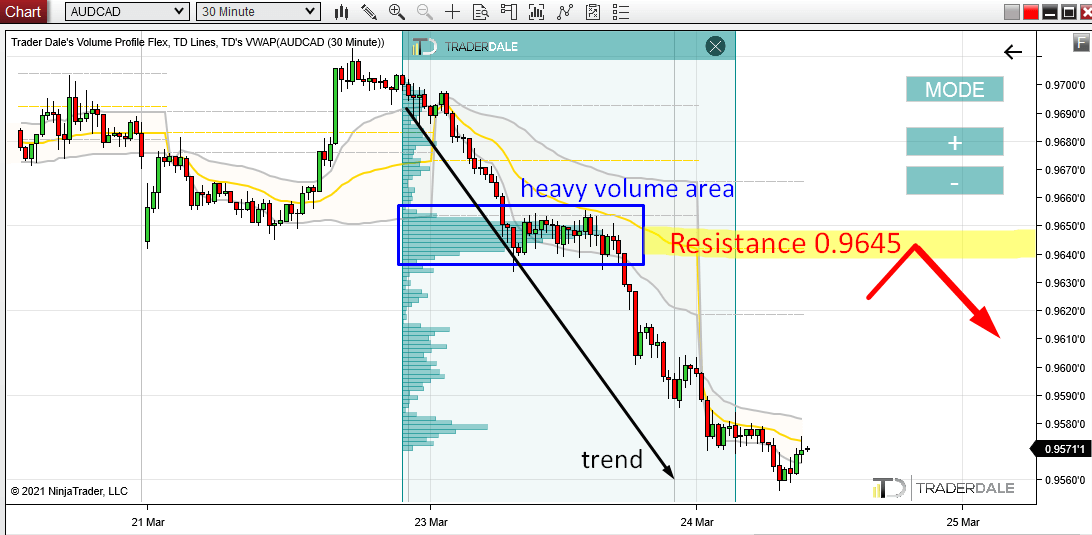 Price Action Analysis
I really like to combine the Trend Setup with Price Action Setup called "Support →Resistance".
It is my favorite two-setup combo. It goes like this:
First, you identify the Trend Setup – that significant volume cluster created within a trend.
Then, you want to see that the price has already reacted to this zone in the past. Like in the picture below.
The price bounced upwards off this zone twice on Monday. This means it was a Support. When the price went past the Support yesterday, this Support became a new Resistance.
The important thing is that this corresponds with the significant volume area which we identified using Volume Profile.
A combo of two independent trading setups like these makes the Resistance strong.
AUD/CAD; 30 Minute time frame: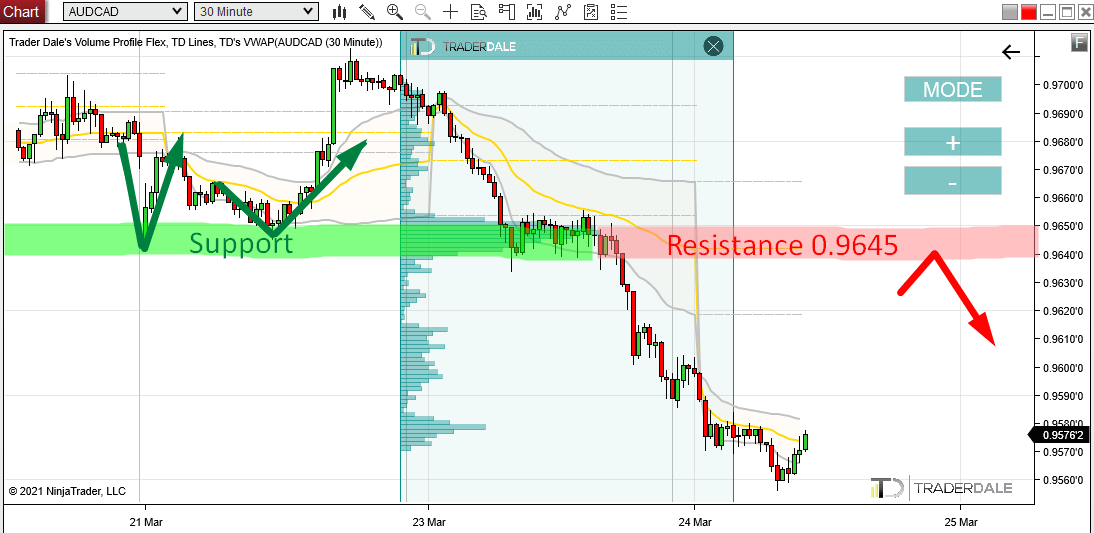 I hope you guys liked today's analysis! Let me know what you think in the comments below.
Happy trading!
-Dale
Do you want ME to help YOU with your trading?
Join one of my Volume Profile Educational courses and get my private trading levels, 15 hours of video content, my custom made Volume Profile indicators, and more!