Hello guys,
in today's intraday trading analysis I will focus on AUD/JPY.
There was a trend day yesterday and the AUD/JPY went down. Now there seems there may be a correction and the price is heading towards a pretty significant Resistance level. So let me talk about that.
Before the strong selling yesterday, there was a rotation. In that rotation heavy volumes got traded. You can see it if you use my Flexible Volume Profile.
I think that in this volume area strong Sellers were building up their Short positions. Then they pushed the price aggressively downwards.
This tells us that this zone (around 84.78) should be important for strong institutional Sellers. That's why I think that if there is a pullback to this zone again, it will work as a Resistance.
This Volume Profile setup I used is called the "Volume Accumulation Setup".
AUD/JPY; 30-minute chart: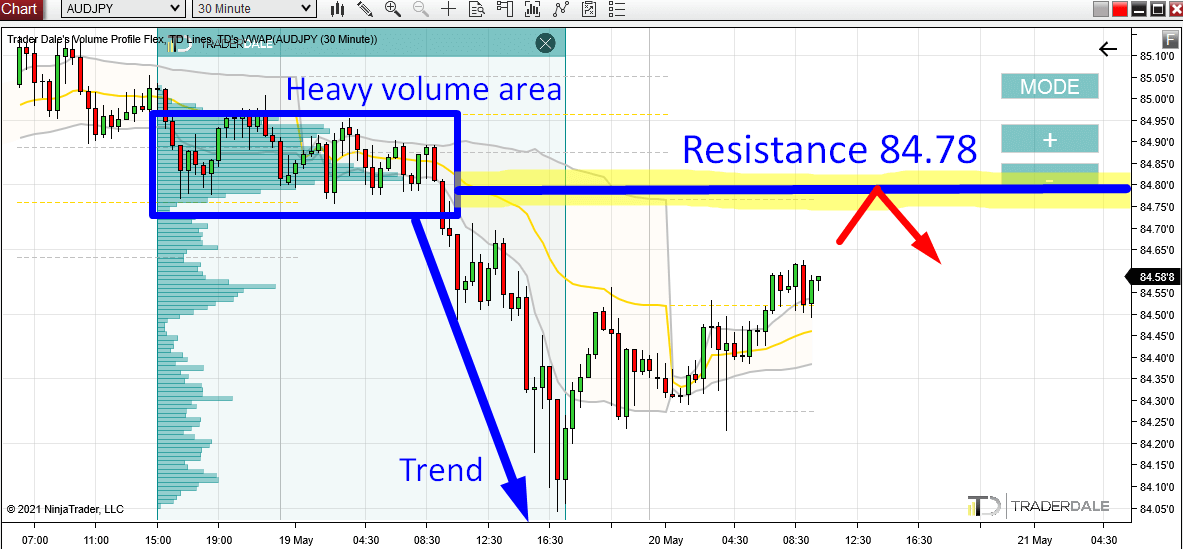 Weekly Point Of Control
What adds strength to this Resistance around 84.78 is that it is also the Point Of Control (POC) of this week. This means that the heaviest volumes throughout this week were traded at this specific price level. This definitely adds significance to this level and it's a nice confluence to have there.
AUD/JPY; 60 Minute chart; Weekly Volume Profile: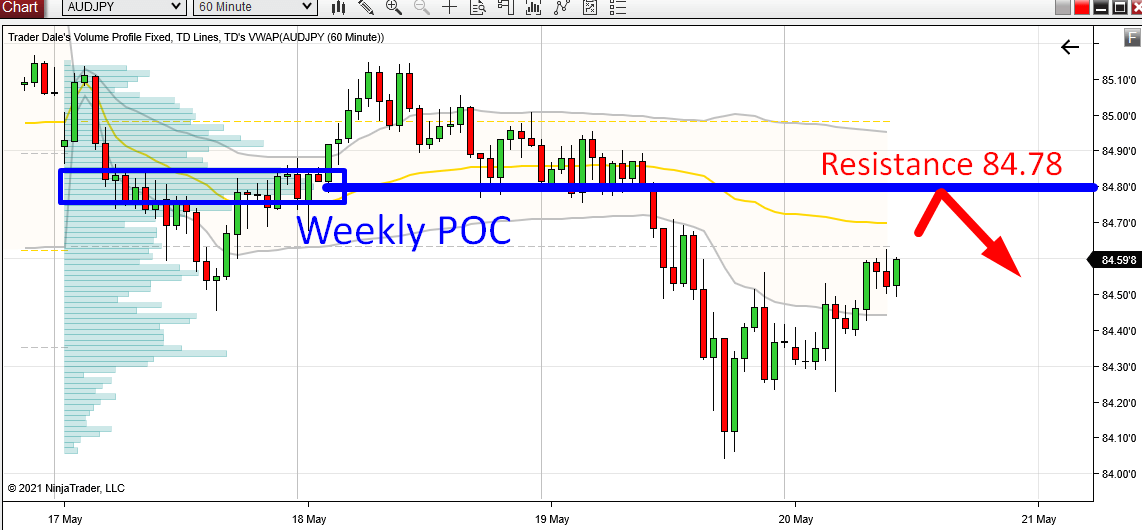 Support Becoming Resistance (Price Action Setup)
Another nice addition to add strength to our Resistance is a simple Price Action setup called "Support → Resistance".
As you can see from the picture below, our Resistance at 84.78 worked as a strong Support in the past. The price bounced off it several times.
This Support is now breached. When it got breached and the price started to move below it, then it became a Resistance.
That's what this Price Action setup is all about – a Support that got breached becomes a Resistance.
Check it out on the picture below:
The thing I like here is that all those three signals line up nicely together and they all point to our 84.78 Resistance.
I hope you guys liked this day trading analysis! Let me know your thoughts in the comments below!
Happy trading,
-Dale
Do you want ME to help YOU with your trading?
Join one of my Volume Profile Educational courses and get my private trading levels, 15 hours of video content, my custom made Volume Profile indicators, and more!
P.S. If you are with my for some time, maybe you have noticed one more nice setup that played out recently on AUD/JPY. It was a trade based on the Volume Profile Trend Setup. Here it is: