In my latest market analysis, I talked about an intraday resistance on CHF/JPY. There was a nice reaction to it on Friday. First, there was a quick +16 pip reaction, and then on the market open, the reaction continued and made +26 pips.
Still, it is always safest to close all your intraday positions before the weekend. There could be an opening gap which could cause your account a lot of harm if the market went the wrong way. So, in this case, it would be just best to close your position in green numbers before the market closed.
If you missed this level prediction and analyiss, you can read about it here:
CHF/JPY: Volume Profile analysis and prediction
You can see the reaction to the 114.06 resistance below: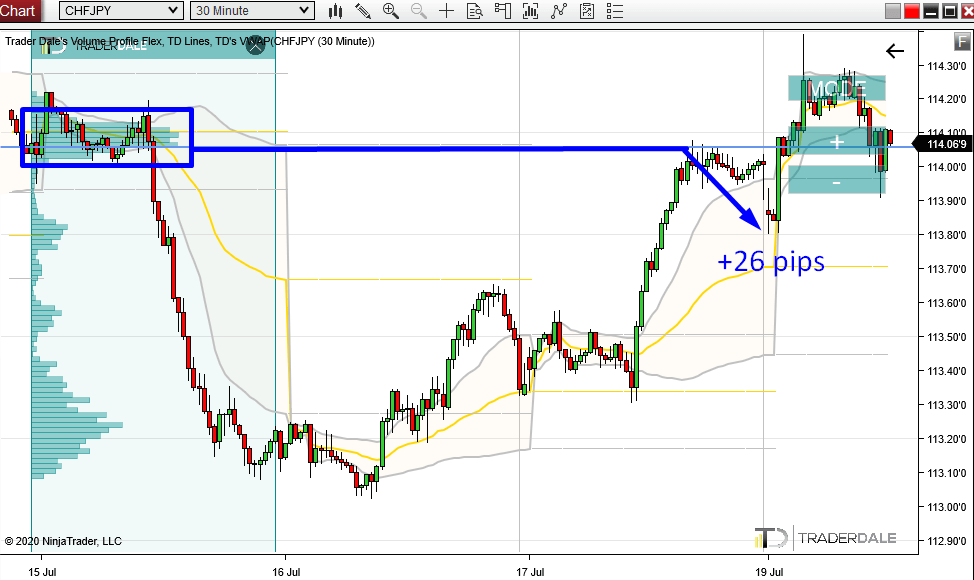 Do you want ME to help YOU with your trading?
Join one of my Volume Profile Educational courses and get my private trading levels, 15 hours of video content, my custom made Volume Profile indicators, and more!
CHF/JPY – Volume Profile analysis
In today's analysis, I will also comment on the CHF/JPY as there is another nice trading opportunity.
What I want to talk about is a newly formed support around 113.45.
On Friday, there was a rotation formed around the 113.45 area. If you use Volume Profile you can see that there were heavy volumes traded there, and most of them at 113.45.
From this place, a strong buying activity started. This means that there were buyers entering their long positions in that rotation. Then those buyers started aggressive buying and with Market orders pushed the price into a new uptrend.
When the price returns back to this area again in the future, then it is pretty likely that those buyers will become active again and they will try to push the price upwards from this support again.
Below is a CHF/JPY, 30 Minute chart with the highlighted 113.45 support: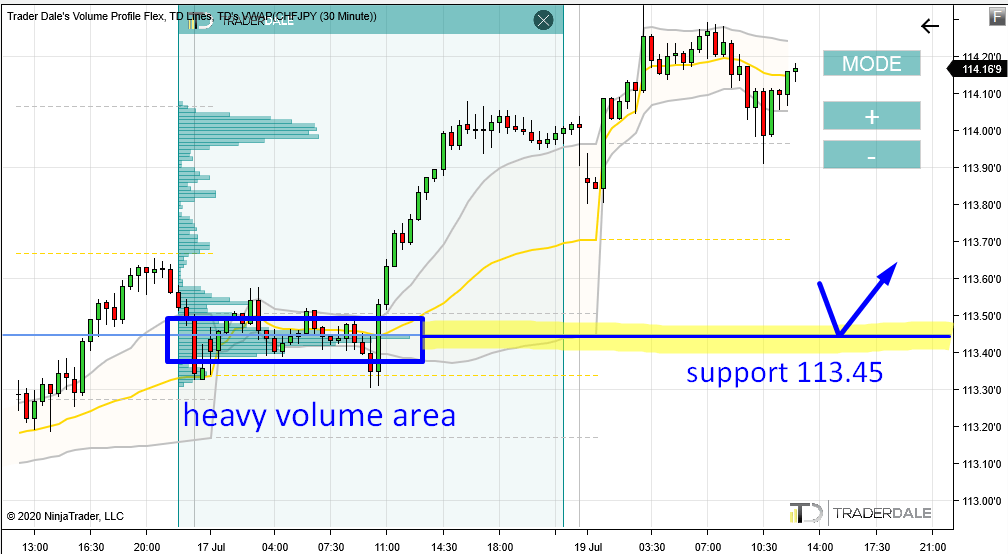 Learn Volume Accumulation setup HERE
The setup I used in Friday's analysis and also in today's analysis is called the Volume Accumulation setup, and you can learn more about it for example in my Volume Profile Book which you can download for FREE by clicking the banner below.
Happy trading,
-Dale