Hello my friends! I would like to summarize my trading in January and tell you some of my observations as well as some news. Here we go!
There were about 34 trading opportunities this month. I exclude levels hit in macro news or levels that were discarded because they were tested few pips sooner. There were 26 winners and 8 losing trades. According to my analysis all levels hit in asian session were winners! I took some of them with limit orders and Iam thinking that maybe I will set limit orders and trade all levels in every asian session now.
I have noticed one new element in forex trading since Donald Trump became president of US. This element is sudden market moves caused by unexpected news coming usually from his twitter or speech. Because of this I took around one or two SL if I remember correctly. You probably won't be able to stalk this guy or watch his twitter all day so I suggest to be carefull of unexpected quick moves in US trading session. If the market moves like this it is probable that Trump is on. In cases like this it is better to miss a trading opportunity than take a quick and painful SL.
I would like to thank Sevan62 from my Forex Factory thread who made an EA (Expert Advisor) for trading my levels. It has many cool features so I recommend checking it out! You can find it in the Downloads section.
Here is my intraday statistics for January: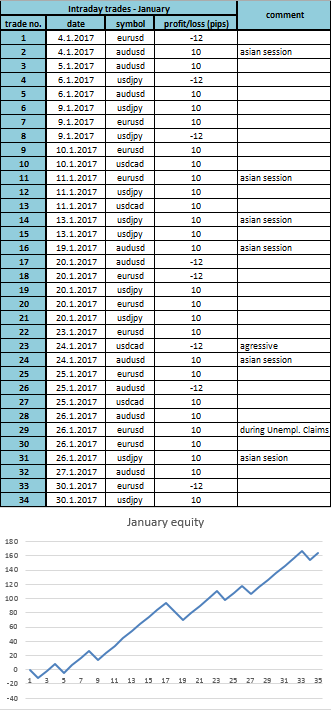 I wish you all happy trading
Dale