Hello guys,
today's post will be a Swing trade analysis of USD/CAD.
With Swing trades, I do my analysis mostly using Daily charts. This allows me to see the bigger picture.  I need the bigger picture to see what the BIG trading institutions do on the higher time frames.
With Swing trades, I also use way wider Take Profits and Stop Losses than with day trading levels.
What caught my eye on the USD/CAD was a strong downtrend that started in April and continues until now.
USD/CAD: Volume Profile Analysis
With a trend like this, I am always interested in how the volumes were distributed there – within the trend area. For this I use my Flexible Volume Profile indicator. I simply drag it over the whole trend area – like in the picture below.
USD/CAD; Daily chart: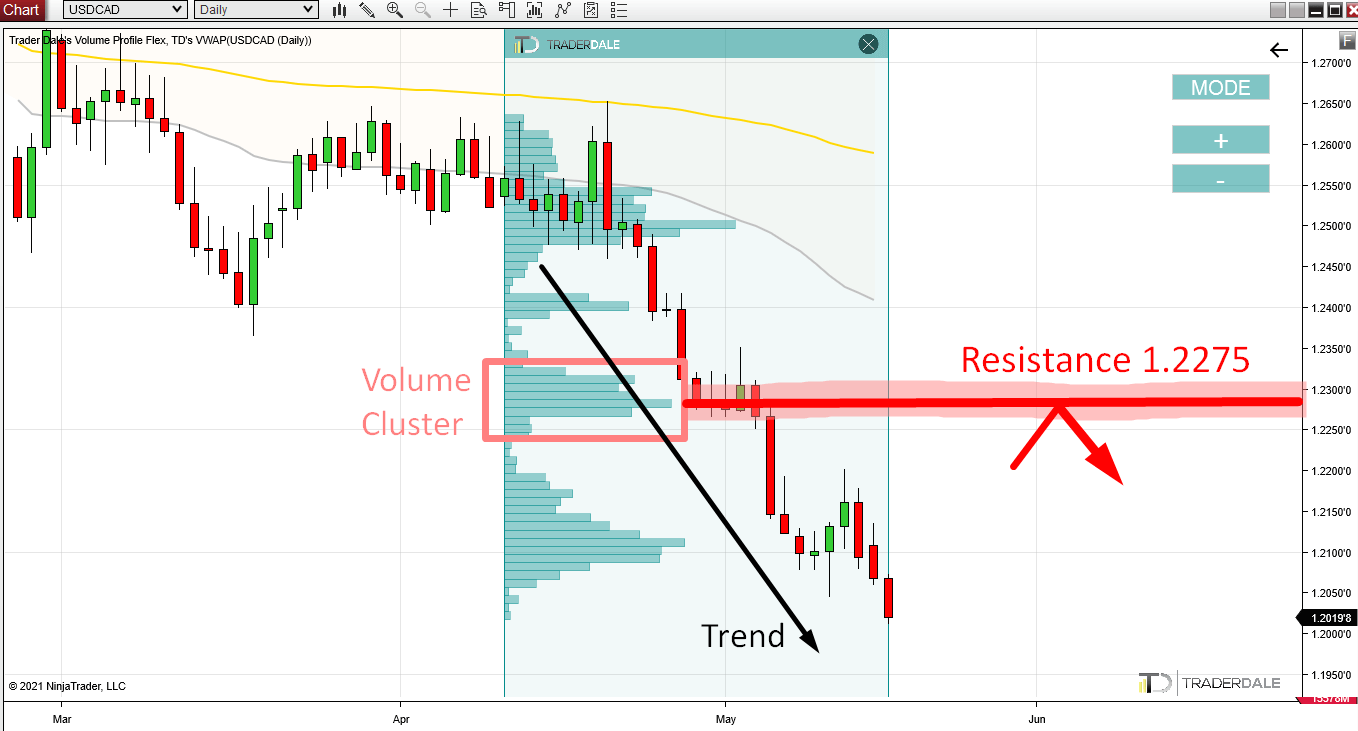 As you can see from the picture, there is a couple of "volume bumps" which I call the Volume Clusters. Those Volume Clusters represent places where heavy volumes were traded. I am always after the heavy volumes because heavy volumes = Big institutions.
In the picture above I selected a Volume Cluster around 1.2275. Heavy volumes were traded there and then, after a couple of days, the sell-off continued.
It seems that the BIG institutions were adding to their Short positions in that Volume Cluster. Then they pushed the price downwards again.
When the price makes it back into the 1.2275 area it is pretty likely that those strong institutional Sellers will want to defend this zone. It is an important zone for them since they placed a lot of their new Shorts there.
So, what I think will happen is that they will want to push (manipulate) the price downwards from this place again. This is why I think this will make the area around 1.2275 a strong Resistance.
I call this setup the "Trend Setup". I trade it when there is a trend.
Do you want ME to help YOU with your trading?
Join one of my Volume Profile Educational courses and get my private trading levels, 15 hours of video content, my custom made Volume Profile indicators, and more!
If you would like to learn more about Swing trading, then you may want to check this webinar recording:
I hope you guys liked today's analysis! Let me know what you think in the comments below.
Happy trading,
-Dale