Hello guys,
today's analysis is going to be an intraday analysis of EUR/CHF. This forex pair is not so common for me to trade because there are often not so many trading opportunities. That is due to the low volatility of this pair (which is caused by CHF being closely linked with EUR).
Still, a nice trading opportunity has presented itself now!
What caught my eye here was a nice price channel formed yesterday, which got followed by a strong rejection of higher prices and then a sell-off.
Volume Profile analysis
When I see a price channel followed by a sell-off like here, I am always interested in how volumes were distributed there. For this I use my Flexible Volume Profile which allows me to look into specific areas in the chart to see how the volumes were distributed there.
What is quite common is that heavy volumes got formed in such a channel. Why? Because big trading institutions like to accumulate their huge trading positions hidden in a rotation/price channel.
In this case, there were nice heavy volumes accumulated around the 1.0758 level (that is the Point Of Control of that heavy volume area). From there the sell-off started.
When the price makes it back into this area again at some point in the future, then I think that those big institutions will want to defend their shorts.
Defend how? By aggressive selling around the POC level at 1.0758. With this aggressive selling (using Market orders) they will try to push the price downwards again.
This is why I think the 1.0758 zone will work as a strong intraday resistance.
EUR/CHF, 30 Minute chart: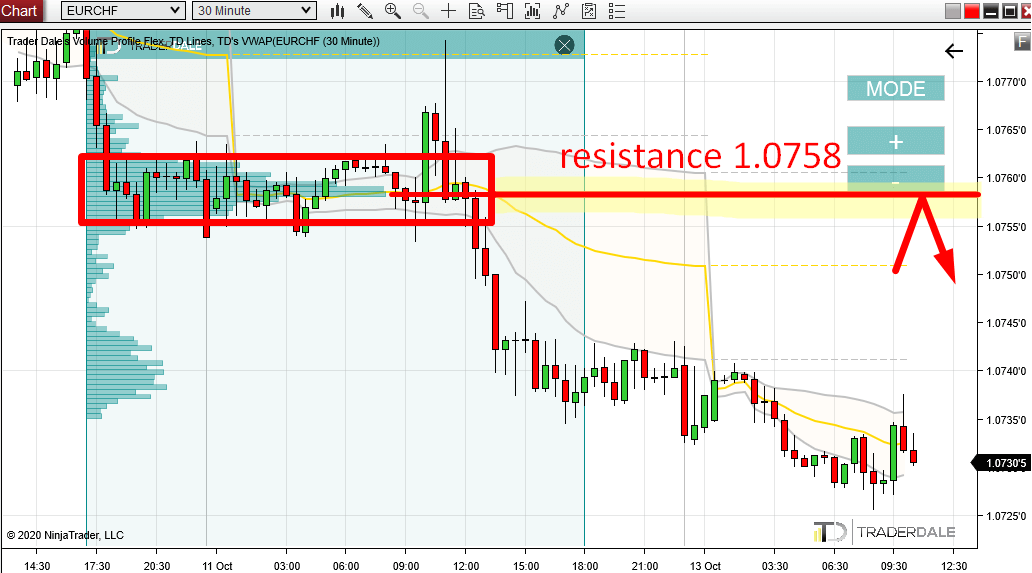 Do you want ME to help YOU with your trading?
Join one of my Volume Profile Educational courses and get my private trading levels, 15 hours of video content, my custom made Volume Profile indicators, and more!
VWAP analysis
Another tool I like to use in my day trading analysis is VWAP. More precisely, Weekly VWAP and its Deviations.
The picture below shows the Weekly VWAP and its development this week.
The thing to notice here are the two grey lines (1st Deviations of the yellow VWAP line). Simply put, those work as Supports and Resistances. There have already been some reactions to the lower VWAP (I marked that with black arrows).
The upper 1st Deviation has not been tested yet. Currently it is at our 1.0758 resistance and if it stays somewhere close to it, then it will be a nice confluence to our Volume-based setup (The Volume Accumulation Setup I talked about earlier).
EUR/CHF, 60 Minute chart with Weekly VWAP: