Hello guys,
a nice intraday trading opportunity has just occurred on AUD/JPY. Let's check it out!
There was a strong uptrend activity earlier today as the JPY weakened against the AUD (and also against other currencies).
Before this trend activity, there was a rotation in which heavy volumes got accumulated.
I believe that institutional traders were entering their Long positions there – in that rotation.
After that, they pushed the price upwards into a new uptrend.
The heaviest volumes before the uptrend were traded around 79.66 area. You see it nicely in the picture below, where I used my Volume Profile indicator.
AUD/JPY; 30 minute chart: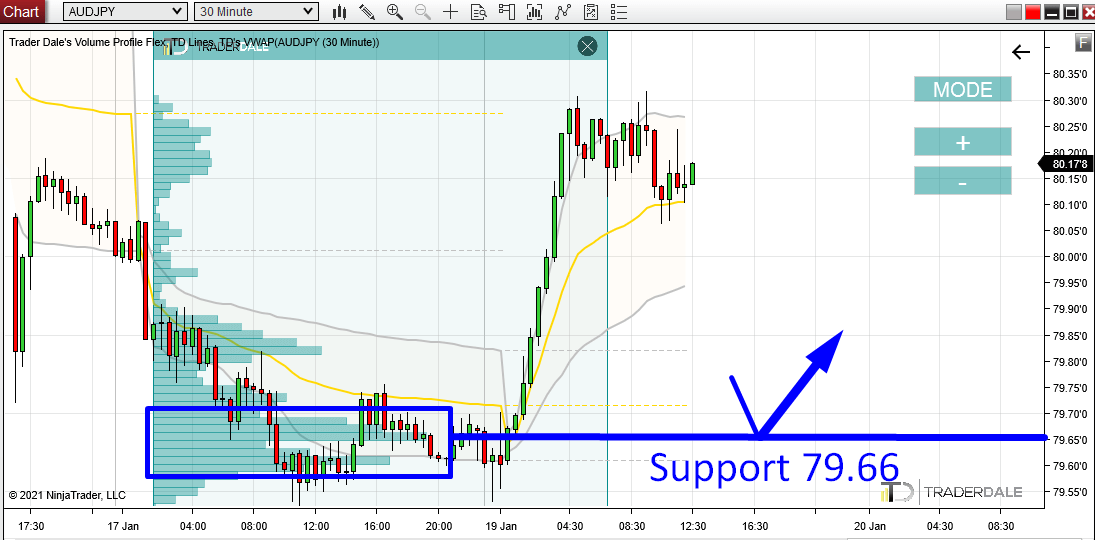 This zone is clearly an important place for institutional buyers who placed their Long positions there. For this reason, I think that those buyers will want to defend this zone in the future.
This is why I think this will work as a strong Support. When the price makes it there again in some point in the future, then it is likely to react there and turn upwards.
Why? Because the strong buyers from this zone will become active and defend this zone (=push the price upwards again with aggressive Market Orders).
This is a setup which I call "Volume Accumulation Setup" and you can learn more about it for example in this webinar: VOLUME PROFILE WEBINAR
VWAP Confluence
There is one more nice confluence to this level. It is a confluence with VWAP indicator. More precisely, with its 1st Deviation.
The 1st VWAP Deviations (the grey lines) work as Support/Resistance zones.
Right now, there is a lower 1st Deviation very close to 79.66. This makes our volume-based level even stronger – provided that when the price makes it back to 79.66, the 1st Deviation is still around.
AUD/JPY, 60 Minute chart with Weekly VWAP:
I hope you guys liked today's day trading analysis. Let me know what you think in the comments below!
Happy trading!
-Dale
Do you want ME to help YOU with your trading?
Join one of my Volume Profile Educational courses and get my private trading levels, 15 hours of video content, my custom made Volume Profile indicators, and more!