Hello guys,
in today's day trading analysis I would like to show you a nice-looking Resistance that has just formed on AUD/JPY.
On Monday and Tuesday, there was a downtrend. When there is a trend I am always interested in how volumes were distributed there. What I look for are significant volume areas (= volume clusters) that are inside the trend.
Those Volume Clusters represent places where big trading institutions were active and where they were adding to their trading positions.
What I did here, was that I used my Flexible Volume Profile indicator, and stretched it over the whole trend area.
This revealed a significant Volume Cluster.
AUD/JPY; 30 Minute chart: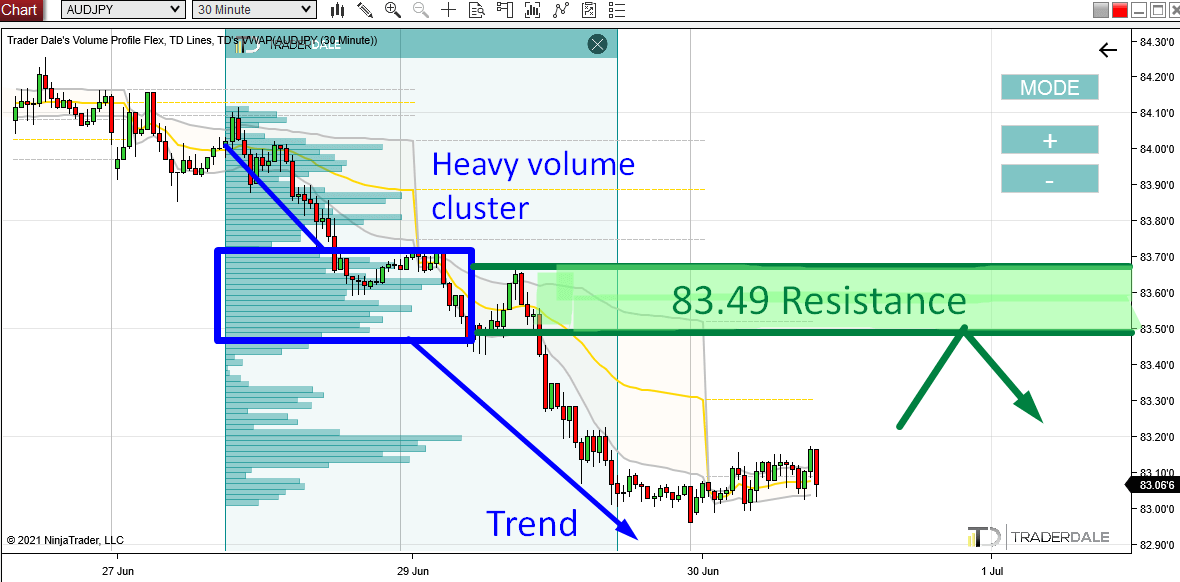 This Volume Cluster is now very important, because strong Sellers who were pushing the price downwards (into the downtrend) were adding massively to their Shorts there.
When the price makes it back (pullback) into this Volume Cluster area, then those Sellers will want to defend this zone. Why? Because they placed a lot of their Shorts there. This zone is important for them!
This is what will make this area (starting at 83.49) a strong day trading Resistance.
Do you want ME to help YOU with your trading?
Join one of my Volume Profile Educational courses and get my private trading levels, 15 hours of video content, my custom made Volume Profile indicators, and more!
VWAP Trend Setup
Another thing I wanted to point out on the AUD/JPY is how nicely it is reacting to my VWAP trading setups.
The screenshot below is the last 7 days on AUD/JPY (60 Minute chart). In this period, there were six trading opportunities which were based solely on my VWAP Trend Setup. 1 Loser, 5 Winners. Pretty cool, right? Given the fact how simple this setup is!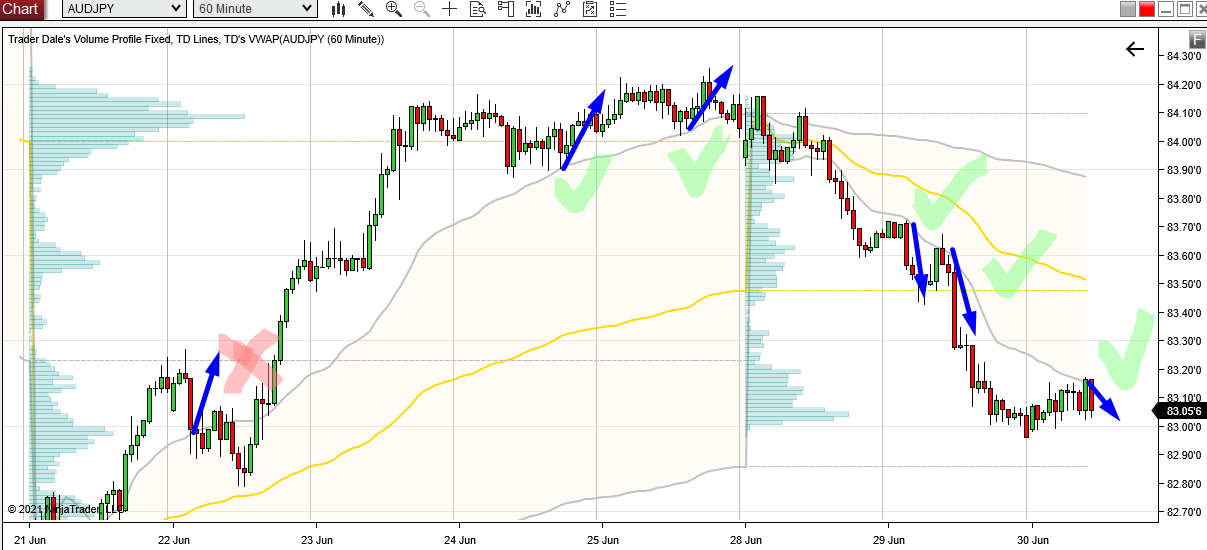 BTW. If you don't know what I am talking about and what VWAP Trend Setup is, then you can learn it for example in this webinar recording: