Today, I am going to share with you my intraday analysis of CAD/CHF.
In the last two days, the price of this fx pair has been in an uptrend.
When there is an uptrend, I always use my Flexible Volume Profile to look into that uptrend to see how volumes were distributed there. I always look for significant volume clusters.
Then I trade from those volume clusters.
If you look at the picture below, you can see the current uptrend and the volume distribution within this uptrend.
I marked a nice volume cluster where heavy volumes were traded (around 0.6918)
I think those volumes were positions of institutional buyers, who were adding to their longs there and then they continued pushing the price even higher.
When the price makes it back into this area again, I think those strong buyers will want to defend this area (because they placed a lot of their positions there) and that they will try to push the price from there upwards again.
That's why I think this level around 0.6918 should work as a strong intraday support.
This volume-based setup is called the "Trend Setup".
CAD/CHF, 30 Minute chart: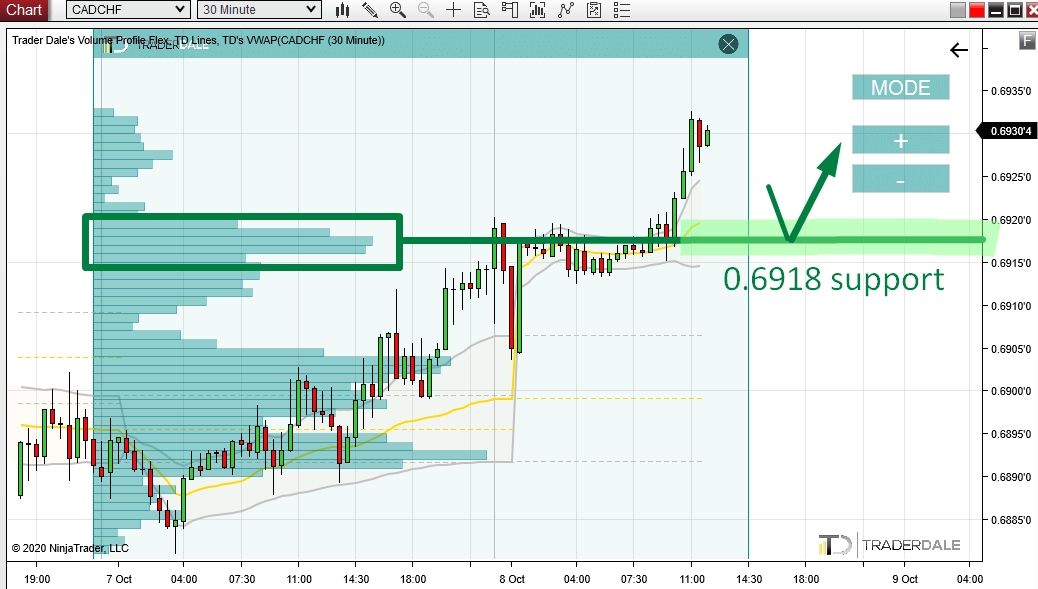 Do you want ME to help YOU with your trading?
Join one of my Volume Profile Educational courses and get my private trading levels, 15 hours of video content, my custom made Volume Profile indicators, and more!
Weekly Point Of Control (POC)
Another thing worth noticing is the Weekly Volume Profile (shows how volumes were distributed every week).
The place where most of the volumes got traded in the previous week (Weekly POC) lies exactly at our 0.6918 support level.
This POC got formed in the previous week, and then the price went through it. This strong Weekly POC should also help to hold the price and work as a support.
This makes it a nice confluence to our trading level
CAD/CHF, 60 Minute chart: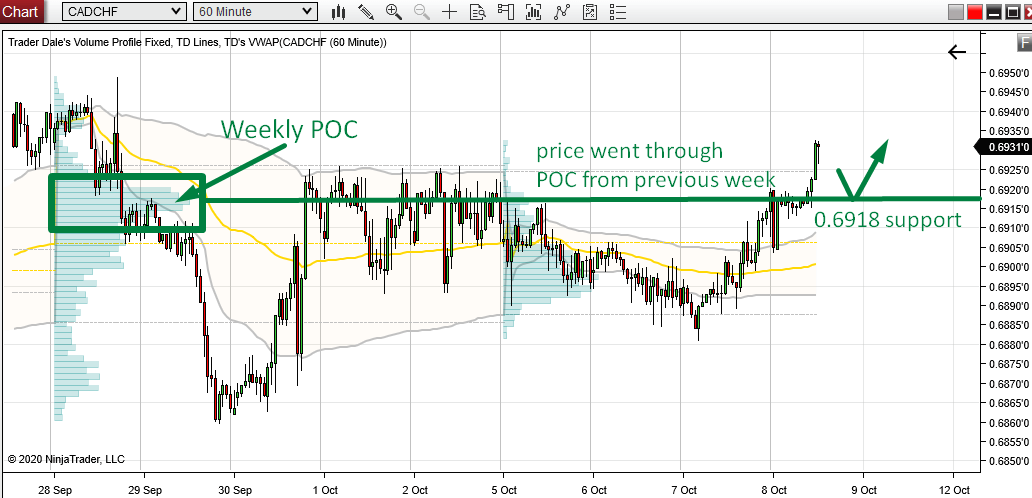 What about VWAP?
Another thing I like to combine with volume-based setups is VWAP.
In my trading, I like to use 1st deviations of the VWAP – those are the two grey lines you see in the picture below.
Those lines work as support and resistance zones.
Currently, the 1st Deviation is below the price, but if the price stays above it for some more time and if big enough volumes are traded there, then the 1st Deviation will start moving upwards.
An ideal scenario would be if the 1st Deviation was somewhere around the 0.6918 level when the price hits it. That would really be a nice confluence of trading signals.
The picture below shows how that ideal situation would look like (*those black dots were drawn by me as an illustration).
CAD/CHF, 60 Minute chart:
If you would like to learn how to trade with VWAP, you can check out this VWAP webinar: