Hello guys,
today, I would like to have a closer look at EUR/AUD.
There has been an interesting development as the trend completely changed from downtrend to uptrend. Also, the change of trends was quite rapid. There was a strong sell-off, and then just after a few hours of rotation a strong buying activity took place.
When there is such an aggressive change of a trend, then I am always interested in the volume distribution within the strong rejection area. I am most interested in the volumes that got traded right before the change of trend occurred. For this, I use my custom-made Volume Profile tool.
One of the handy features my Volume Profile has is that you can use it to look into specific areas in the chart which you are interested in. Just like the rejection here.
EUR/AUD; 30 Minute chart: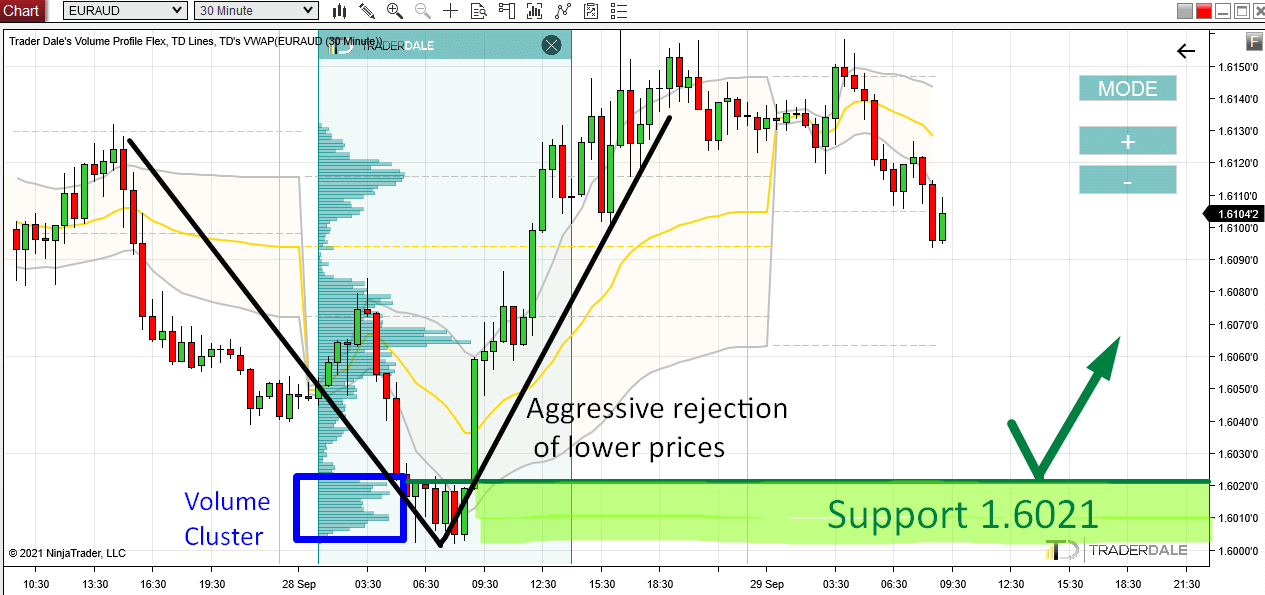 As you can see in the picture above, I used the Volume Profile to look into the rejection – into the area where the trend changed. That's the most important zone.
The Volume Profile revealed a significant volume zone – a volume cluster that got formed just before the trend changed.
Significant Volume Cluster
What does this volume cluster tell us? It tells us, that at this place heavy volumes were traded. Buyers were buying everything the Sellers had to sell. They were buying aggressively and when the Sellers ran out of fuel, the price shot upwards. Strong institutional Buyers pushed it there – it's those guys that changed the trend.
When the price makes it back into this rejection zone again at some point in the future then we can expect those strong institutional Buyers to defend this zone again.
This zone is clearly important for them since they were buying there as crazy before.
So, when the price makes it back to the volume cluster zone starting at 1.6021, those Buyers should start aggressive buying activity (using Market Orders) and push the price upwards again.
This should make the zone around the volume cluster a strong day trading Support.
The Volume Profile setup I used here is called the "Rejection Setup" and you can learn more about how to trade it in my Volume Profile Trading Course.
I hope you guys liked my analysis! Let me know what you think in the comments below!
Happy trading,
-Dale
Do you want ME to help YOU with your trading?
Join one of my Volume Profile Educational courses and get my private trading levels, 15 hours of video content, my custom made Volume Profile indicators, and more!