Hello guys,
yesterday's market analysis turned into a beautiful trade so I hope you took it! If you missed it, then here it is:
EUR/CHF: Volume Profile and Price Action Analysis
Today, I will also do a day trading analysis. This time on the EUR/GBP.
There is a newly formed uptrend (BTW starting from Swing Long level from our Elite Pack members area) which I think could provide a nice trading opportunity!
This new uptrend started from a rotation that formed yesterday.
Volume Profile Analysis
I used my Flexible Volume Profile to look into the rotation to see how volumes were distributed there.
As you can see from the picture below, there was quite a huge chunk of volumes accumulated in this rotation.
I think that strong institutional Buyers were building up their Long positions there.
Those BIG guys need to build up their positions in a rotation since that's the only place where they can place their massive trades without being spotted and without moving the price too much.
Why do I think it was Buyers? Because of the the new uptrend that followed the rotation.
EUR/GBP; 30 Minute chart: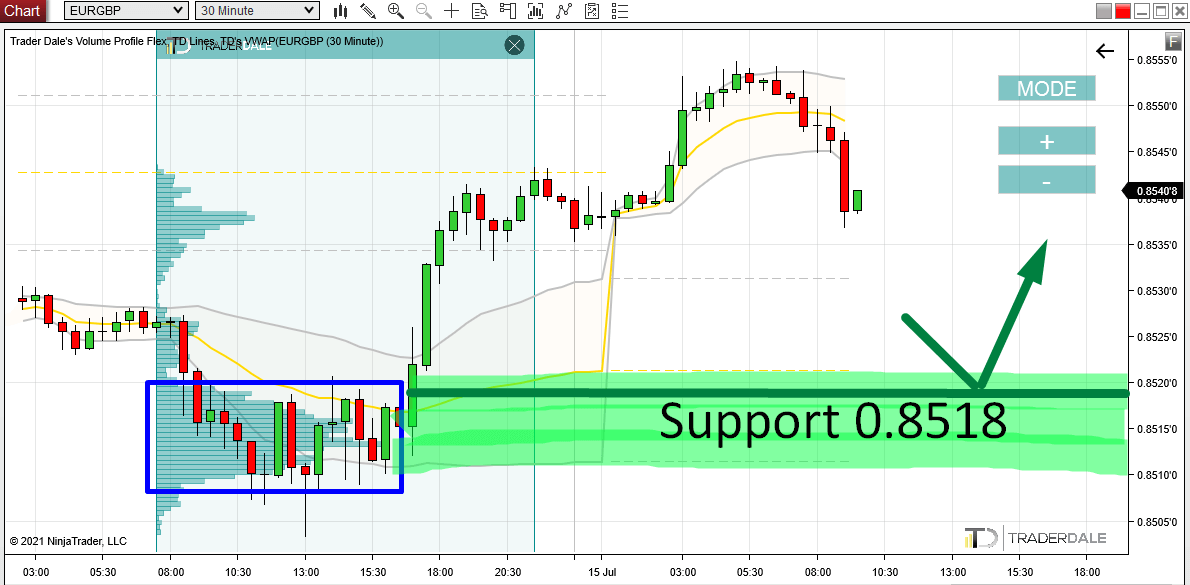 Strong Institutional Buyers
Knowing there were strong institutional Buyers entering their Longs in the rotation, how do we work with this information?
Since we know the Buyers placed a lot of their trading positions in this zone starting at 0.8518, we can assume that this zone is important for them.
When the price makes a pullback into this zone again, those BIG guys will want to defend it.
Defend how? By manipulating the price upwards again – using aggressive Market Orders.
This is what should help to push the price upwards from there and what makes the zone (starting at 0.8518) a strong Support.
The Volume Profile setup I used here is called the "Volume Accumulation Setup".
I hope you guys liked my analysis! Let me know what you think in the comments below!
Happy trading,
-Dale
A Special Deal
P.S. If you would like to learn more about trading with Volume Profile, then this is your chance! There is currently a massive discount on my best  educational & indicator pack – THE ELITE PACK. Check it out here: