After quite a slow December, January returned back to the usual and the number of trades went back to the average 30-40/ month.
Let's have a look at the December trades which originate from the trading levels I publish in my daily levels table. To start let's cover the intraday trades and then I will go into the swing trades. These monthly recaps should give you a sample of what to expect.
Intraday Trades
There were 33 intraday trades in total, including trades in the Asian session and reversal trades. Out of those 33 trades, there were 20 winning and 11 losing trades. Two trades ended around Break Even. The total pip count was +86 pips profit.
The figures above are based on someone taking all the trades (also the reversal trades) and managing them exactly as in this article: Dale's intraday trade management
Below is a table of all the trades along with the exact values. You can go through the charts yourself and see how the price reacted to my levels. If you are familiar with the trading setups I use, then you should also be able to identify which setup I used for each of my trading levels.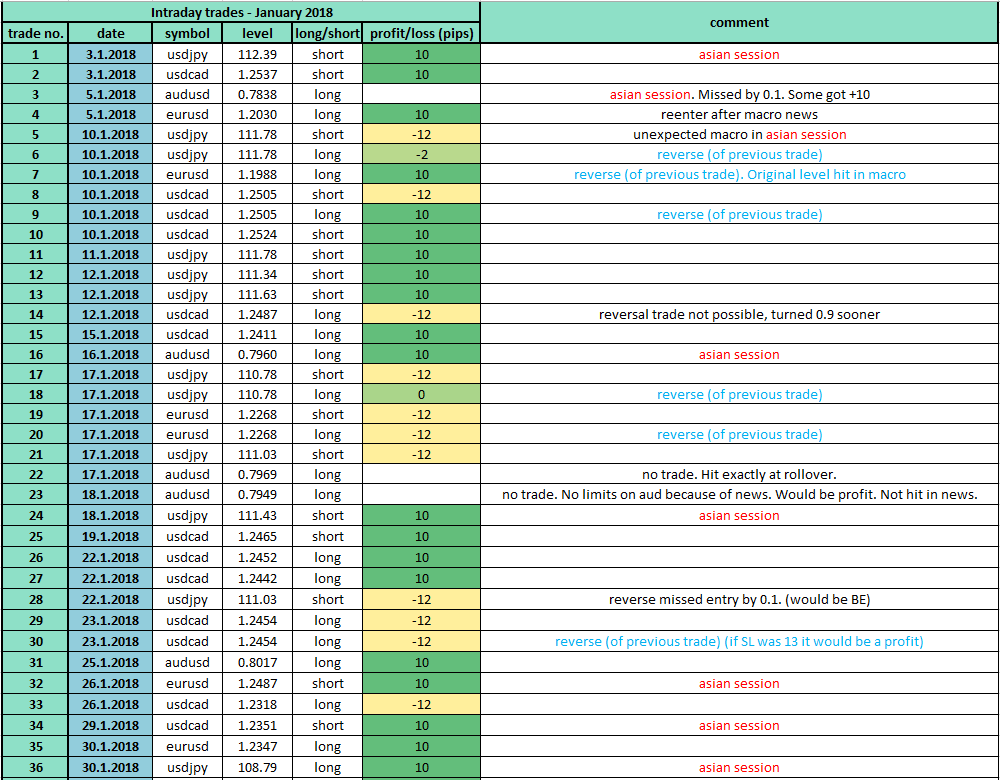 *Results were generated using a Simulated Trading Account and are Hypothetical.
As you can see from the table, the levels that got hit in the Asian session worked really nicely. There were 6 winners, and only one loser (which was caused by unexpected news). All this with simple limit orders set overnight! The reversal trades which usually work really nicely in the long run ended basically around BE this month as there were only 2 winners and 2 losers.
Swing Trades
There were 7 swing trades in January. 4 were winners and 3 were losing trades – that is if somebody took all the trades and used the alternative position management method I personally use to trade the swing levels.

What's new?
I dug into cryptocurrencies this month and did an article and a video on them.The article is here: How To Trade Cryptocurrency Like A Pro (With Volume Profile)
the video is here:
I was also analyzing the EUR/USD from a very long-term point of view and wrote an article on how to plan investment trades with the Volume Profile. You can check the article here: How To Plan Long-Term Investments With Volume Profile
Happy trading
-Dale
P.S – If you would like my Daily Levels so that you can start 'Earning While You Learn,' then check out our Advanced Volume Profile Training Course and Members Forum for more information – Click Here to Start Learning Now
P.P.S. You can check out the previous monthly recaps here: